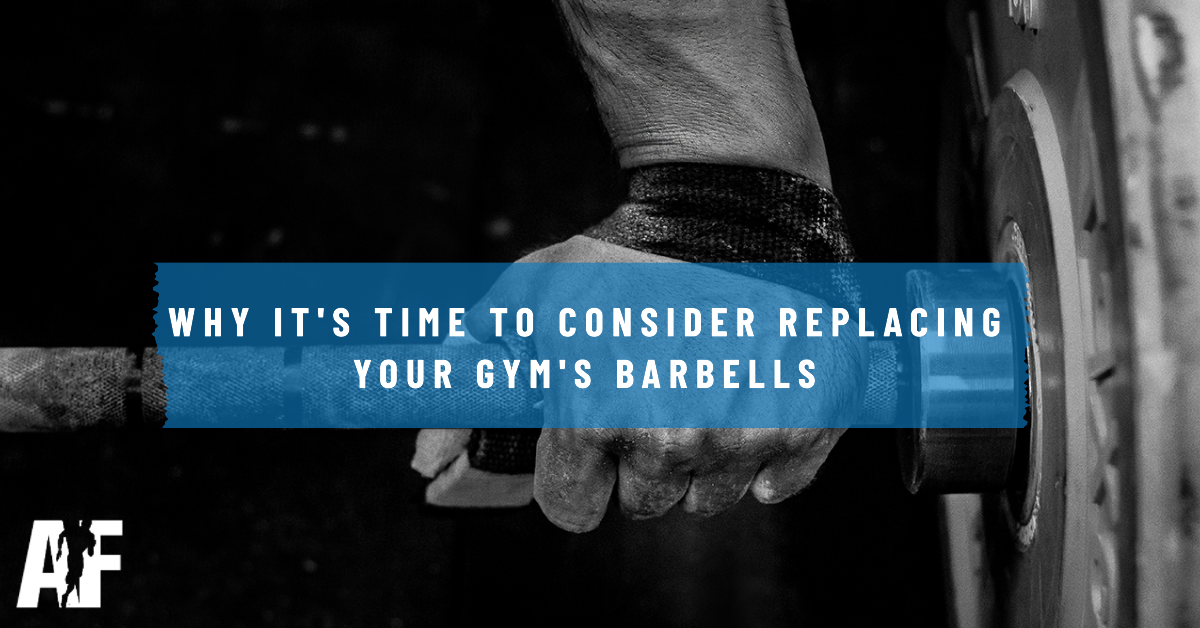 As a gym owner, you understand the importance of providing top-quality equipment for your members. The state of your equipment is a direct reflection of your gym and the value you offer. One of the most used and essential pieces of equipment in any gym is the barbell. But have you ever considered when it might be time to replace them?
The Lifespan of a Barbell
At Again Faster, we have tens of thousands of barbells in use around the world, many of them over 10 years old. Our barbells are designed to withstand the rigours of intense workouts and have proven their durability over time. However, just because you can get 10 years out of a barbell, doesn't mean you necessarily should.
The Impact of Wear and Tear
Consider this: a barbell in a CrossFit gym gets dropped over 1,000 times per week on average, or around 30 times per workout. That's about 27,000 times in a 5-year lifespan. That's a lot of wear and tear.
Over time, this constant use can lead to visible and invisible wear on your barbells. The knurling can become less sharp, affecting grip; the spin of the sleeves can become less smooth, impacting lifts; and the overall appearance can become worn and aged. This wear and tear can affect the performance of the barbell and, in turn, the quality of your members' workouts.
The Value of Your Product
The state of your equipment, including your barbells, is directly connected to the value of your product. Your members come to your gym expecting to use high-quality, well-maintained equipment. If they see worn-out barbells, it can negatively impact their perception of your gym and the value you offer.
Replacing your barbells regularly not only ensures that your members are using equipment that is in top condition but also shows that you are committed to providing the best possible gym experience. It's an investment in your gym's reputation and your members' satisfaction.
The Again Faster Difference
At Again Faster, we are committed to supporting gym owners in providing the best possible experience for their members. We understand that replacing gym equipment, including barbells, can be a significant investment. That's why we've introduced our innovative Barbell Trade-In Program, which allows you to trade in your used and worn barbells for a substantial discount on brand new ones.
In conclusion, while our barbells are designed to last, regular replacement is a key part of maintaining the quality and value of your gym. By investing in new barbells, you're investing in your members' satisfaction and your gym's success.
Again Faster Loyalty Program
As a gym owner or manager, signing up for the Again Faster Loyalty Program is a strategic move that can significantly benefit your business. The program is designed to help businesses of all sizes grow their revenue and improve their customers' experiences by leveraging the power of high-quality products and services.
By joining the program, you can enjoy a growing list of benefits depending on your tier. These include nominating up to four staff members to be an Again Faster Ambassador, receiving credit for free Again Faster products, getting priority customer service, and having early access to new equipment, special order runs, clearance sales, and stock sell-offs.
You also gain free access to the fitbox Business Academy content, support for emerging athletes from your gym, events and competitions, exclusive offers for your members, and the opportunity to earn 10% store credit for any purchases made by your members.
Moreover, the program is performance-based, rewarding you for using, promoting, referring, and selling our products and services. This initiative, combined with fitbox IQ's Member Management platform, which allows the automatic collection of revenue based on franchise fees, makes the Again Faster Loyalty Program a game-changer in managing your gym business.
Join the Again Faster Loyalty Program today and take your gym to the next level »
Got a question about gym equipment or need assistance with fitting out a gym?

Don't hesitate to get in touch with us or message Jed at jed@againfaster.com.au.
Fill out the form below and we'll be happy to help!