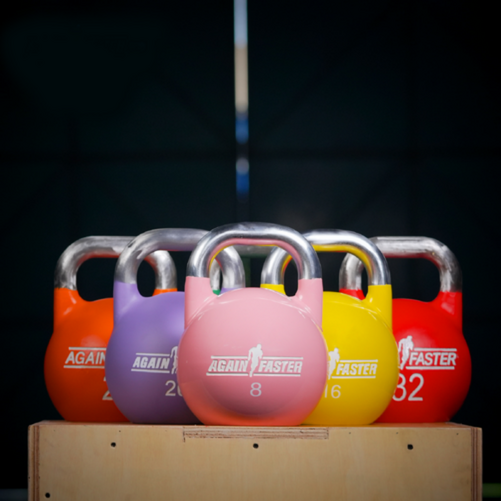 AGAIN FASTER KETTLEBELLS
Trusted by Athletes, Coaches, Crossfit Gyms & Affiliates Worldwide!
Step into the arena of strength and versatility with the Again Faster Kettlebells, meticulously crafted for both CrossFit fanatics and home gym warriors. Marrying ergonomic design with unmatched durability, our kettlebells promise not just to be a part of your workout, but the heart of it. Whether you're swinging into high-intensity CrossFit WODs or anchoring your home gym sessions, these kettlebells are the powerhouse you've been seeking. Experience a transformative blend of agility, power, and endurance — all-in-one dynamic equipment.
Again Faster offers two exceptional kettlebell variants: the precision-balanced Pro Grade Competition and the Team Kettlebells. Available in a spectrum ranging from 4kg to a commanding 36kg, they cater to both the novice and the seasoned, the casual home gym enthusiast and the dedicated CrossFit athlete. With these kettlebells, you're not just lifting weights, you're elevating your entire workout experience. Check our blog to uncover the intricacies of kettlebell training and discover tips to maximize your workouts.
Our gym experts are ready to help you create your ideal setup. Book an equipment consult here »
---
Again Faster is the leading supplier of premium gym equipment for all your home gym and commercial gym workout needs. Our exceptional range of equipment is designed to elevate your fitness routine, helping you achieve your goals without compromising on quality or performance.
As a trusted provider, Again Faster has outfitted numerous home and commercial gyms throughout Australia and New Zealand. Our unwavering commitment to delivering excellence has positioned us as the preferred choice for individuals and businesses in the fitness community. Check our gym fit outs here »
Connect with us today to explore our collection of high-quality home gym equipment or to strategize outfitting your commercial space. Delve into our blog for expert insights, and reach out to us to transform your fitness goals into a reality.
---