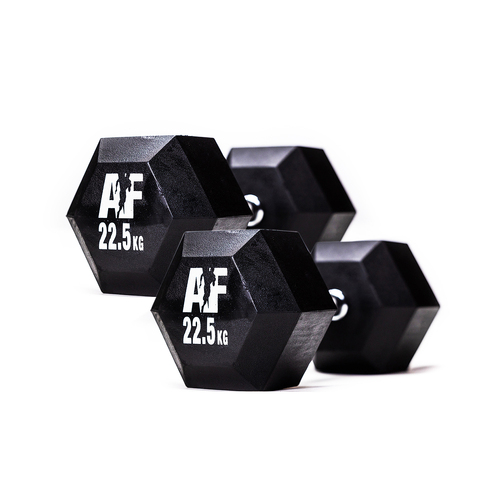 AGAIN FASTER DUMBBELLS
Trusted by Athletes, Coaches, Crossfit Gyms & Affiliates Worldwide!
From the rugged training grounds of top-tier CrossFit boxes to the dedicated corners of home gyms, Again Faster Dumbbells are the unrivaled choice for those serious about their fitness journey. Every Again Faster Dumbbell is precision-engineered to offer the perfect balance and weight distribution. Its ergonomic design ensures a comfortable grip, allowing you to focus on your form and not your equipment.
Globally trusted by CrossFit gyms, our dumbbells have not only powered numerous WODs and shined in competitions due to their durability and reliability, but they also embody the ideal fusion of professional gym quality and home convenience. Whether you're embarking on your fitness journey or intensifying your training, Again Faster Dumbbells seamlessly enhance any home and commercial gym setup.
Step up your game and experience the difference of Again Faster Dumbbells. Built for passion, designed for results. Be part of the community that never settles for anything less than the best. Check our blog to uncover the benefits of Dumbbell training and discover tips to maximize your workouts.
Our gym experts are ready to help you create your ideal setup. Book an equipment consult here »
---
Again Faster is the leading supplier of premium gym equipment for all your home gym and commercial gym workout needs. Our exceptional range of equipment is designed to elevate your fitness routine, helping you achieve your goals without compromising on quality or performance.
As a trusted provider, Again Faster has outfitted numerous home and commercial gyms throughout Australia and New Zealand. Our unwavering commitment to delivering excellence has positioned us as the preferred choice for individuals and businesses in the fitness community. Check our gym fit outs here »
Connect with us today to explore our collection of high-quality home gym equipment or to strategize outfitting your commercial space. Delve into our blog for expert insights, and reach out to us to transform your fitness goals into a reality.
---