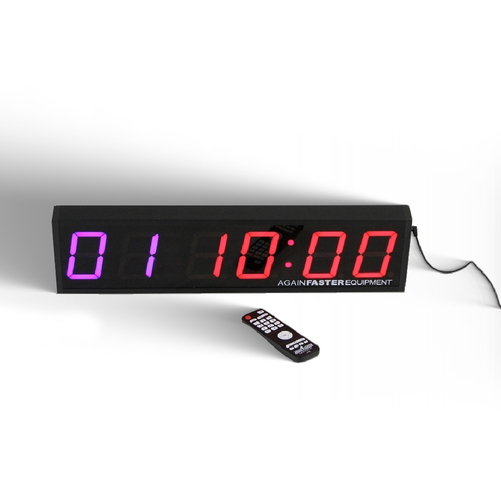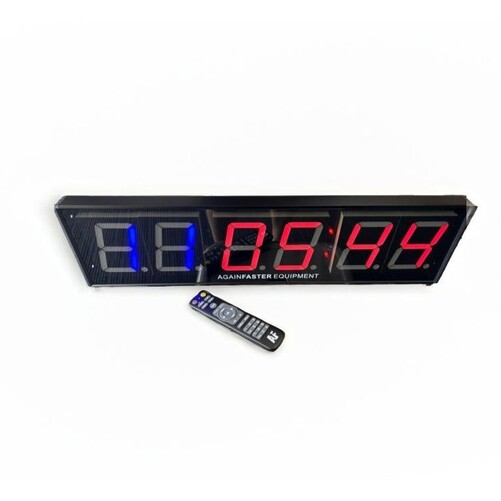 AGAIN FASTER GYM WALL TIMERS
Trusted by Athletes, Coaches, Crossfit Gyms & Affiliates Worldwide!
Elevate your training sessions to new heights with our state-of-the-art timing solution. Designed with the athlete in mind, the Again Faster Gym Wall Timer seamlessly integrates into any workout environment, providing clarity and precision to every second of your regimen. We understand that in the world of fitness, every second counts. Time isn't just a measure; it's an essential component that dictates the rhythm, intensity, and progression of your training.
This isn't just any timer; it's a game-changer. Boasting a variety of pre-set functions tailored for standard training formats, it also offers customizable settings to ensure your unique workout needs are met. Whether it's interval training, endurance runs, or HIIT sessions, our timer has got you covered. With the Again Faster Gym Wall Timer, not only do you get accuracy, but you also get a partner that recognizes the paramount importance of time in your training journey. Step into the future of fitness with us, and watch your performance soar.
Our gym experts are ready to help you create your ideal home or commercial gym setup. Book an equipment consult here »
---
Again Faster is the leading supplier of premium gym equipment for all your home gym and commercial gym workout needs. Our exceptional range of equipment is designed to elevate your fitness routine, helping you achieve your goals without compromising on quality or performance.
As a trusted provider, Again Faster has outfitted numerous home and commercial gyms throughout Australia and New Zealand. Our unwavering commitment to delivering excellence has positioned us as the preferred choice for individuals and businesses in the fitness community. Check our gym fit outs here »
Connect with us today to explore our collection of high-quality home gym equipment or to strategize outfitting your commercial space. Delve into our blog for expert insights, and reach out to us to transform your fitness goals into a reality.
---