From a Traumatic Childhood to a Successful Business:
Rowena Calderwood's Inspiring Journey

Meet Rowena Calderwood. 'Ro' is the mastermind behind The Butterfly Effect competition.
Rowena's life has been nothing short of remarkable. From a traumatic childhood marked by an anorexic mother who instilled toxic beauty standards to hitting rock bottom, Rowena's journey to success is a testament to resilience, transformation, and a deep commitment to giving back to the community. In this blog post, we'll explore Rowena's incredible journey and the thriving business she has built, all while supporting a vital cause.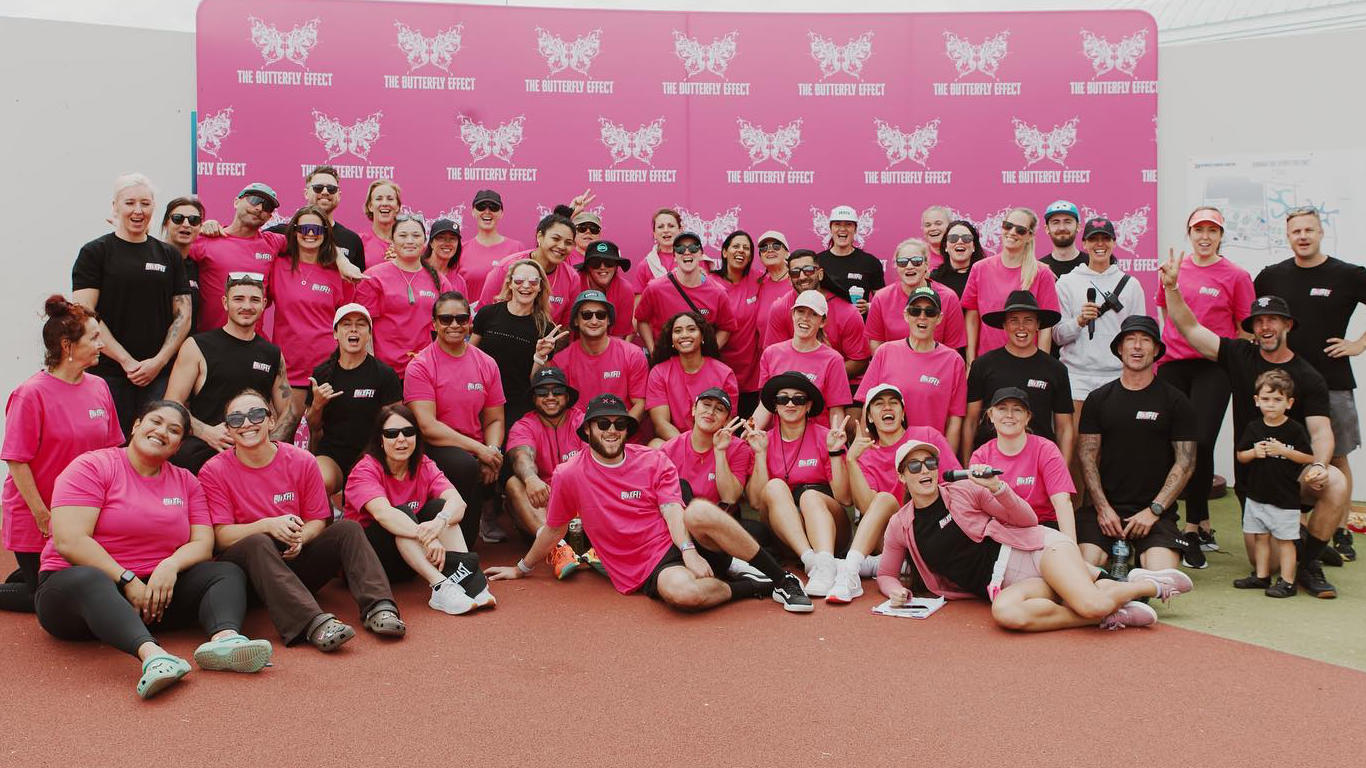 A Childhood Shrouded in Darkness
Rowena's early years were marred by a mother consumed by anorexia and manic depression. Raised in a family once close to Iranian royalty, her mother's life took a drastic turn when they were forced to flee to the UK due to political upheaval. Financial struggles and a relentless focus on appearances led her mother down a destructive path of addiction and extreme dieting.
For Rowena, growing up meant internalising her mother's disdain for anyone who didn't fit a narrow definition of beauty. She felt compelled to avoid gaining weight, seeing her own body as a problem. It was a painful upbringing that she believed was normal until she gained perspective as she grew older.
Rock Bottom and a Turning Point
Leaving home at 15, Rowena arrived in Australia at 21, searching for a new beginning. However, at 23, she found herself destitute, living in a tent, and stealing scraps of food from café plates to survive. This dire situation was a turning point. Rowena's perspective on food began to shift, and she realised the importance of nourishing her body.
However, her lowest point was still ahead. A deteriorating tooth forced her to hitchhike to the Gold Coast, where she landed a job at a call center. It was during this period that she started to focus on fitness and health, a dramatic departure from her past.
Building a New Life and Business
Over the next few years, Rowena transformed her life. She became a certified personal trainer and eventually ventured into entrepreneurship by buying and selling gyms. Her passion for empowering women to embrace health and well-being drove her to create "The Butterfly Effect," a fitness event that goes beyond aesthetics.
The Butterfly Effect is a CrossFit/Functional Fitness style event where women of all backgrounds come together to tackle challenging physical tasks. The event aims to shift the focus from appearance to health and longevity, challenging conventional beauty standards. It started with 80 teams in 2016 and has since expanded to multiple cities in Australia and the UK, with 1400 women participating globally.
In 2018, Rowena joined forces with business partner Karly Kentwell, whose contribution played a pivotal role in the business's rapid growth. The Gold Coast event in 2023, featured 275 teams and 1000 spectators, sold out in a mere four minutes, demonstrating the event's immense popularity and impact.
A Noble Cause
What sets Rowena's and Karly's business apart is its commitment to giving back. The Butterfly Effect events raise both funds and awareness for the Butterfly Foundation, an organisation dedicated to supporting individuals dealing with eating disorders, body image issues, and mental health challenges. Rowena recognises the importance of promoting genuine health and well-being, as opposed to promoting unattainable beauty ideals.
Again Faster takes pride in being the major sponsor for the flagship Gold Coast event. The venue boasts a custom pink rig, pink barbells, and the camouflage bumper plates that are known and loved in the event and CrossFit/Functional fitness space.
Whether you're a first-time competitor or a seasoned veteran, this event welcomes you with open arms, promising an extraordinary day filled with camaraderie and empowerment.
Rowena Calderwood's journey is a testament to the power of transformation, resilience, and the desire to make a positive impact. From her traumatic childhood to her flourishing business that challenges societal norms, Rowena's story is an inspiration to us all. It reminds us that we can overcome even the most challenging circumstances and use our experiences to create a better world for others.
Give the team a follow on socials and be part of this inspiring story.