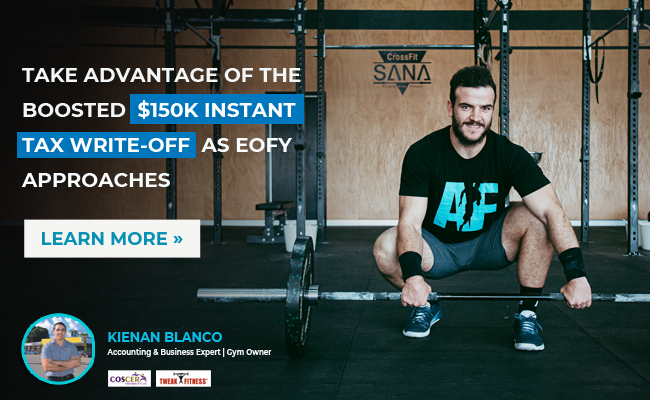 This year, make sure to leverage your tax time benefits to get the gear you need for your facility. Take advantage of the boosted $150,000 instant tax write-off as EOFY approaches.
Upgrade your equipment and create a training space that will help grow your business. Health and Fitness is at the forefront of people's minds right now - make sure you capitalise on the opportunities available to you.
Note: On 9 June 2020, the government announced it will extend the $150,000 instant asset write-off until 31 December 2020. See Extending the instant asset write-off »
SAVE TAX WITH THE INSTANT ASSET WRITE-OFF
What is the instant asset asset write of scheme?
The instant asset write-off scheme provides immediate tax deductions for eligible small and Medium-sized businesses on certain business expenditure. Put simply, instead of claiming larger assets as a deduction over a number of years, you get to claim the full deduction in one financial year.
What assets are eligible?
Most business assets under the value of $150,000 are eligible.
Timing of the scheme?
The scheme is currently in place up to the 31st of December 2020. Keep in mind that assets purchased and installed ready for use before the 30th June 2020 will be a tax deduction in the 2019/2020 financial year and anything after that will be in the 2020/2021 financial year.
Overall, if used correctly, this scheme has huge benefits for small business and can ensure taxes paid upfront are kept as low as possible. It is highly recommended that business owners consult with their accountants/advisors before making any decision as every ones circumstances are very different.
References: ATO | Australian Treasury | Finder.com.au
Make sure to click the link to see all the details. Also, check with your accountant to see if the government's offer fits your situation.
KIENAN BLANCO
Accounting & Business Expert | Gym Owner
---
ABOUT KIENAN
Kienan is the Owner of Crossfit Tweak, Ingham's first CF affiliate, inside Ingham Health Hub, a consortium of different health services.
He is also a Partner at Coscer Partners - a pro-active team of financial professionals specialising in Business advisory for the Fitness Industry and SME's, Accounting and tax, Financial planning, Bookkeeping, Succession Planning and Business Benchmarking.