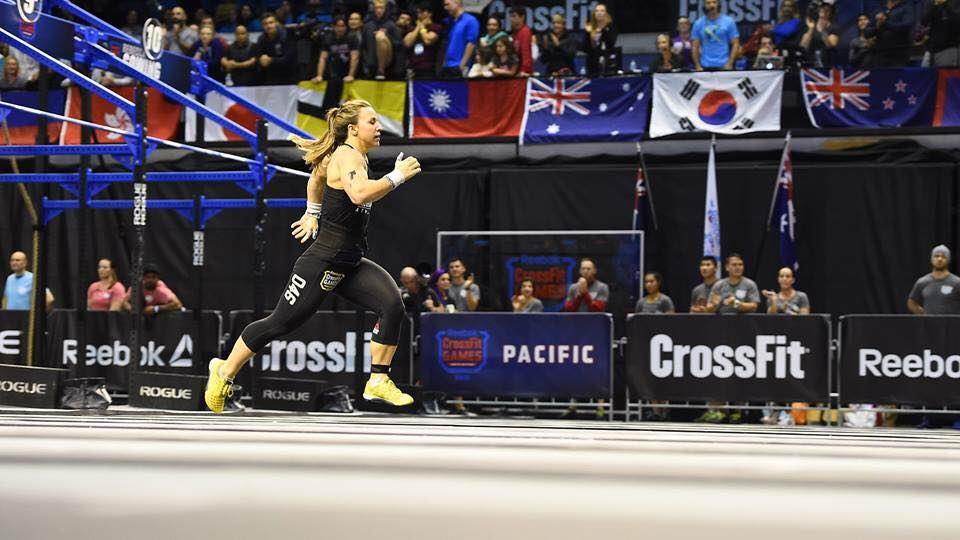 Australia's favourite champion has unfinished business with the World Games
Kara Webb has been the darling of the Australian CrossFit community for several years now. Her pure enjoyment in competing, the way she raises the bar every regionals for the rest of the country to follow and her vivacious personality make her a great athlete to watch and support.
But only the foolish would consider her anything less than a serious competitor and in 2014 she made her first imprint on the minds of the athletes at the top of the women's competition. In 2015 her fire to finish has not diminished.
Talking to Kara over several seasons getting as far as she can in any Games year has always been her priority, so withdrawing last year was a blow on many levels.
"I felt very unfinished last year. I would be happy with whatever ranking if I actually finished the work. It was frustrating not being able to complete the final afternoon. I don't feel like I have anything to prove or anything like that, and I certainly don't think I'm just going to walk in there and pick up where I left off. This is a totally fresh year with different faces, new workouts, and a whole year later so anything could happen. I am really just hoping I can see all of the events through and show everyone what I can do once tested across every domain."
Learning experience
Many Australian Games followers were devastated for Kara having to bow out just one event away from the finish, none of us could really understand what it meant to her. She has taken the experience and put it to good use.
"I learnt so much from last year. The main thing is to not take things for granted. Bad or unfortunate things happen sometimes and that's just a part of life. I am in control to a certain point, and will do everything in my power to direct my life into a good place, but I ultimately need to really be grateful because anything could happen at any time. I tend to stop and soak things up a little more, and I am prepared to deal with adversity much better than I was before."
Kara says at her level, injuries are always a concern, but she is at a point of making them part of her process, not a barrier to it.
"Injuries are ongoing. They don't just disappear and everything is ok and it would be naive to think so. They become a part of you mentally and you carry them with your through your athletic journey. I'm managing perfectly fine and I know how to look after my body but there will always be something when you push your body to the limits."
Regionals and another first place
Kara continues to lead the women's competition and the individuals on the floor at Regionals 2015 prove that Australia has one of the toughest fields to qualify in. The difference in being a newbie and a seasoned competitor means training and preparing for the three days of events is second nature to the champ.
"Training and preparation always has the same basic structure. I tend to just know what I'm doing a little more now and it's kind of second nature.
"It is similar to the kind of volume that I would normally do, if not less at times. I'm used to it now so that makes it easier every year too. The intensity you bring in competition is the only thing you can't really replicate in training, so that makes it a little more tiring in a different way, but still quite manageable and fun. It helps being able to do all of those workouts with nothing in between. I am normally working around training so to not have to work makes it nice to just workout on the comp floor with no other commitments on my mind."
Who to watch for Games 2015?
A number of former champions will be rejoining the Games in 2015. Samantha Briggs has earned her return ticket, along with 2013 second place getter Lindsey Valenzuela. Camille Leblanc-Bazinet and Annie Thorisdottir will also take the floor, all athletes we know Kara can give a run for their money.
Kara isn't watching her back, though. True to form she is more interested in what she can do than targeting any particular athlete.
"I just want to go up against whoever deserves to be there. I always hope that the best will be there so I have a true representation of my ranking. I think it will be cool to have Sam back. She is an awesome person but it will make it particularly exciting having all of the past female champs finally against each other."
So what will the Pacific's fittest woman and Again Faster athlete Kara Webb be aiming for at World Games 2015?
"I have many goals. I hope to participate in every workout, stay healthy, and hopefully do some really cool stuff that allows me to be one of the fittest on earth."
---
Frith Rayner is a former Journalist and regular contributor to the Again Faster Australia Blog.
Photos Courtesy of Kara "Big Dub" Webb Facebook and The CrossFit Games.