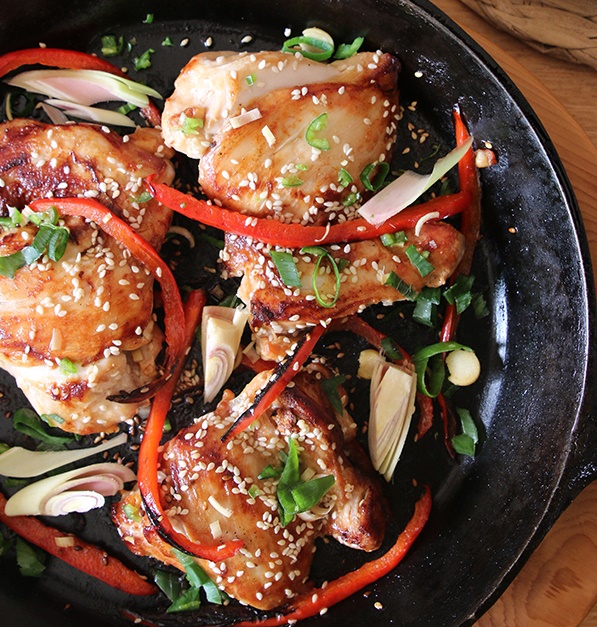 I'm seriously into flavour.
It has to be big, it has to be bold, and it has to be fresh! (and healthy).
Since discovering how many uses essential oils actually have, I've been experimenting with the herb oils and finding them incredible to boost flavour in dishes that would typically call for herbs I can't easily get locally organic.
Essential oils are potent, a little goes a long, long (long) way, so use them sparingly in cooking (most dishes using essential oils will require one to two drops (max!).
These oils last for years, so are a perfect replacement for many herbs we buy in packets that already resemble dried grass-clippings, or that we purchase -apparently fresh – from the supermarket, that are covered in pesticides and herbicides and that go floppy in 24 hours.
This is our delicious take on Vietnamese Lemongrass Chicken using doTERRA lemongrass essential oil.
INGREDIENTS
2 spring onions, sliced thinly
2 drops lemongrass essential oil
3 garlic cloves minced
1 tbsp. minced fresh ginger
freshly ground black pepper to taste
zest from 1 lime
2 tsp. sea salt
1 tbsp. sesame oil
1 tbsp. fish sauce
1 tsp. honey
8 chicken thighs
fsesame seeds, sliced capsicum, green herbs
1tbs coconut oil for frying
PROCEDURE
Marinade
Add the minced shallots, lemongrass, garlic and pepper in a large bowl. Season with pepper and then add the lime zest. Lastly, add sea salt, olive oil, fish sauce and honey and stir until combined. Add the chicken thighs to the bowl and massage the marinade into the chicken with your hands. Cover the bowl and let the chicken marinate for at least one hour or overnight in the fridge.
Cooking the chicken
Preheat a large heavy frypan over medium high heat (cast iron is best).
Heat coconut oil in frypan
Add Place the chicken things, smooth side down, in the pan and cook without turning for 8-10 mins or until you can see that the chicken is cooking more than halfway through. Turning too early will mean you don't get the gorgeous browned crust on the chicken.
Flip the chicken and cook for an additional 5 mins or until cooked through. Add capsicum or other thinly sliced veg for final minutes.
Serve with fresh green salad and herbs.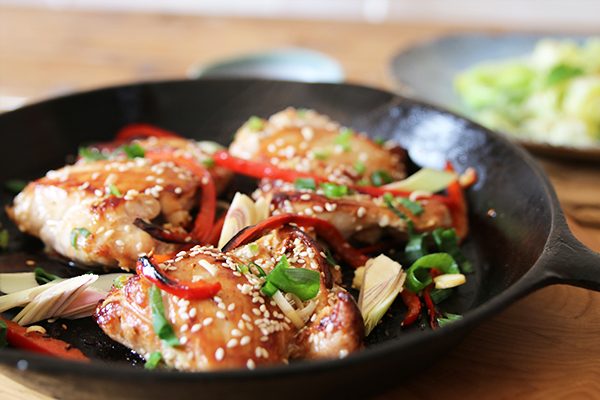 ABOUT THE AUTHOR
I'm Alice Nicholls. I'm a Nutritional Medicine Practitiioner, Health Coach and Life Coach. I specialize in the topic of functional healing and nutrition. This is because a nourishing lifestyle - including the food we eat for health and energy, the self-care practices we utilise and our mindset work - will be the foundation a life that wwe love is built on.
You will find information on The Whole Daily that will help you feel better in your physical body, stronger in your emotional body and inspired by your own potential.