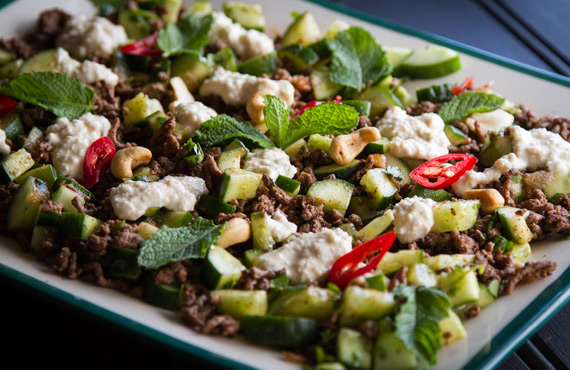 One day I had some leftover minced beef and I wanted to make something a little different. I felt like a salad and happened to have some mint and cucumbers in the house. One thing lead to another and I ended up creating a warm beef salad inspired by Middle Eastern flavours. I love this dish because it's an all-in-one meal – it has protein, healthy fats, some carbs, lots of flavours and it's not too expensive. It's pretty low-carb but very satiating and is 100% gluten, grain and dairy free (Whole30 friendly too).
Cook's notes: The spice mix I used is similar to Shawarma meat seasoning or other pre-mixed Middle Eastern seasonings, which you can use if you don't have all of the spices in your pantry. If short on time, soak cashews for 1 hour but ideally soak for 6-8 hours, you can get those in the water before leaving for work.
Ingredients
2 tbsp coconut oil
1/2 brown onion, finely diced
1/2 long red chill, finely diced, seeds in
350-400 g (0.8 lb.) grass-fed beef mince
3 cloves garlic, finely diced
1 tsp tomato paste
3/4 tsp ground coriander seeds
3/4 tsp ground cumin
1/2 tsp paprika
Pinch of black pepper
Pinch of ground cinnamon
Pinch of ground cloves (or use mortar & pestle to grind 1 clove)
3/4 tsp Celtic or sea salt
For the cucumber salad
2 cups diced cucumber (3-4 medium Lebanese cucumbers)
2 tbsp diced fresh coriander (cilantro)
Pinch of pepper
Pinch of sea salt
2 tbsp olive oil
1 tbsp of lemon juice
10 fresh mint leaves
Few whole raw cashews
For cashew dressing
3/4 cup raw cashews, soaked in warm water for 1 hour
1/2 clove of garlic, diced
Juice of 1 lemon
3/4 tsp tahini paste
2 tbsp water
Pinch of sea salt
Instructions
Heat coconut oil in a frying pan and cook onion and chill on medium heat for 5 minutes, until golden brown and soft. Bring the heat back to high and add the beef mince. Separate it with a wooden spoon, add garlic and cook for 2-3 minutes until the meat browns and the liquid starts to evaporate. Add the spices, salt, pepper and tomato paste. Mix through and cook for a further 5 minutes on high heat. The rest of the moisture will evaporate and the beef should brown and caramelise further.
Combine all salad ingredients, except for mint, in a bowl and set aside until the beef is ready.
To make the cashew raita, place all ingredients in a food processor or an electric blender and process until smooth. Use a spatula to scrape down the sides half way through and a little more water if it's still too thick.
Combine warm beef with cucumber salad and serve with dollops of cashew dressing, fresh chill and mint on top.
Preparation time: 20 minutes
Cooking time: 15 minutes
Number of servings: 2
ABOUT THE AUTHOR
Eat Drink Paleo is a little (well, not so little anymore) passion project I started in 2012. My name is Irena and I am a bunch of different things: recipe developer, cookbook author, amateur food photographer, and a self-proclaimed web geek. When I'm not travelling the world or hiking through the bush in search of a climbing crag or a waterfall of some sort, I am in my small kitchen in London or Sydney, or in a local cafe typing away a new post.