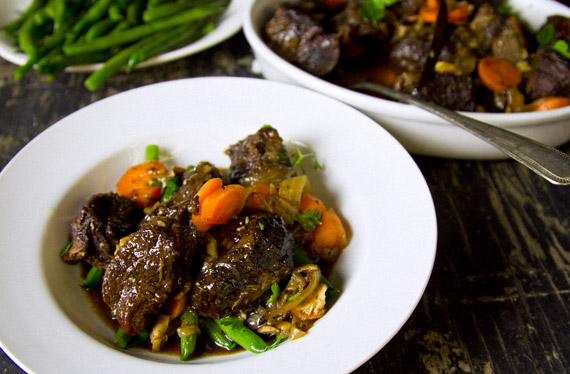 Now, before you start protesting and screaming that I am using port and it has too much sugar, here is what I have to say. Yes, there is sugar – port, tomato paste, carrots, onion – all of these come with some glucose and some fructose but when you divide the total amount in the dish between 3-4 portions, you're coming in at around 5-6 grams per person. For some that's still a lot, especially given that our daily intake should be around 10-15 grams, and that is why this is not a Monday night in with a movie kind of meal. No, this dish oozes decadency and could be featured at one of Marie Antoianette's dinner parties; it's for a special night in with friends or your lover and a glass of vintage Shiraz from Barossa. So, now that we've estbalished that this is a bit of treat as far as meat dishes go, let's get to the good stuff.
Beef cheeks! The name 'beef cheek' refers to the facial cheek muscle of a cow. It's a rather tough and lean cut of meat which requires a slow cooking method. But it's also a bit magical, because given enough cooking time, it transforms into the most gorgeous, gelatinous, velvety, tender meat full of flavour and depth. For this recipe I used beef cheeks from one of my faves, Cape Grim Beef. It's advisable to pre-order beef cheeks from your butcher, otherwise if you can't find any something like beef brisket can also be used. The reason I used port instead of just red wine is that dark fortified wines add much more depth to the dish plus I wanted something sweeter with vanilla.
This dish is not difficult but is best prepared on a weekend when you have plenty of time to supervise the braising.
Ingredients
3-4 beef cheeks (about 1.2 kg), cut in half, sinew removed (ask butcher to do this)
2/3 cup port (Sherry can also be used)
1-2 vanilla beans (depending on size), split
450 ml beef stock
1 tbsp Balsamic vinegar (red wine vinegar can also be used)
1 1/2 tbsp tomato paste
4 large garlic cloves, cut roughly
6 cloves
2/3 tsp cardamon seeds
1 tsp black pepper
3 bay leaves
2 tbsp coconut oil for frying
1 tbsp butter
1 large white onion, sliced thick
1 large carrot, peeled and sliced
Celtic or sea salt and pepper
Instructions
Preheat oven to 150C.
Season beef cheeks with salt and pepper. Heat a frying pan with coconut oil over high heat, brown the cheeks on each side and place in a heavy-based casserole.
Deglaze the frying pan with port, then add onion, butter, cardamon seeds, vinegar, bay leaves, tomato paste, cloves, vanilla beans, pepper and beef stock. Mix through and bring to almost simmer, then carefully pour over beef cheeks in the casserole dish.
Assemble beef cheeks so they don't overlap and garlic and onion are distributed evenly amoungst them. Cover with foil and place the casserole in the oven. Cook covered for around 3 hours 15 minutes, turning beef cheeks frequently, say every 20-25 minutes.
Then remove foil, add carrots and cook uncovered for another 1 hour and 15 minutes. Make sure to keep turning the beef cheeks as they will start to brown and dry up on the top. Taste for seasoning and add salt if needed but there should be loads given the beef stock is reduced.
Serve with a side of greens sauteed in butter and garlic and some fresh green herbs on top.
Preparation time: 20 minutes
Cooking time: 4 hours 30 minutes
Number of servings: 4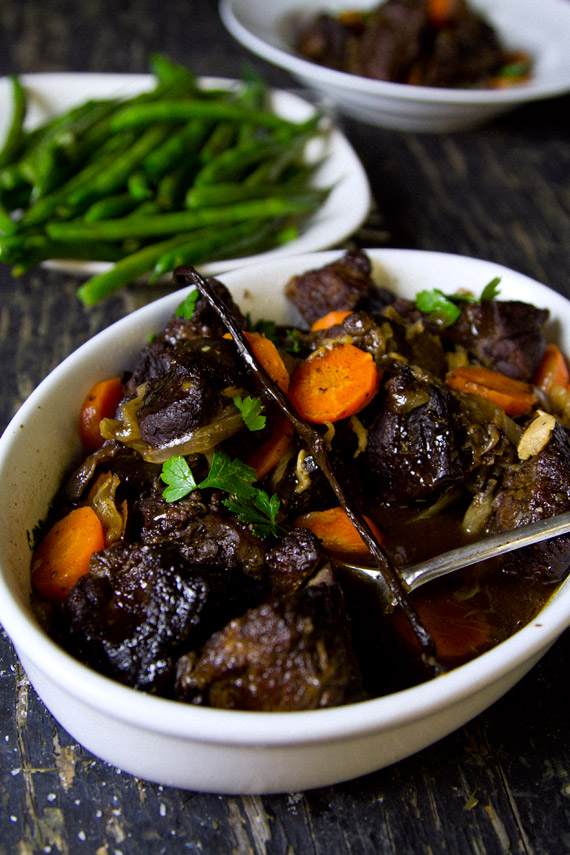 ABOUT THE AUTHOR
Eat Drink Paleo is a little (well, not so little anymore) passion project I started in 2012. My name is Irena and I am a bunch of different things: recipe developer, cookbook author, amateur food photographer, and a self-proclaimed web geek. When I'm not travelling the world or hiking through the bush in search of a climbing crag or a waterfall of some sort, I am in my small kitchen in London or Sydney, or in a local cafe typing away a new post.