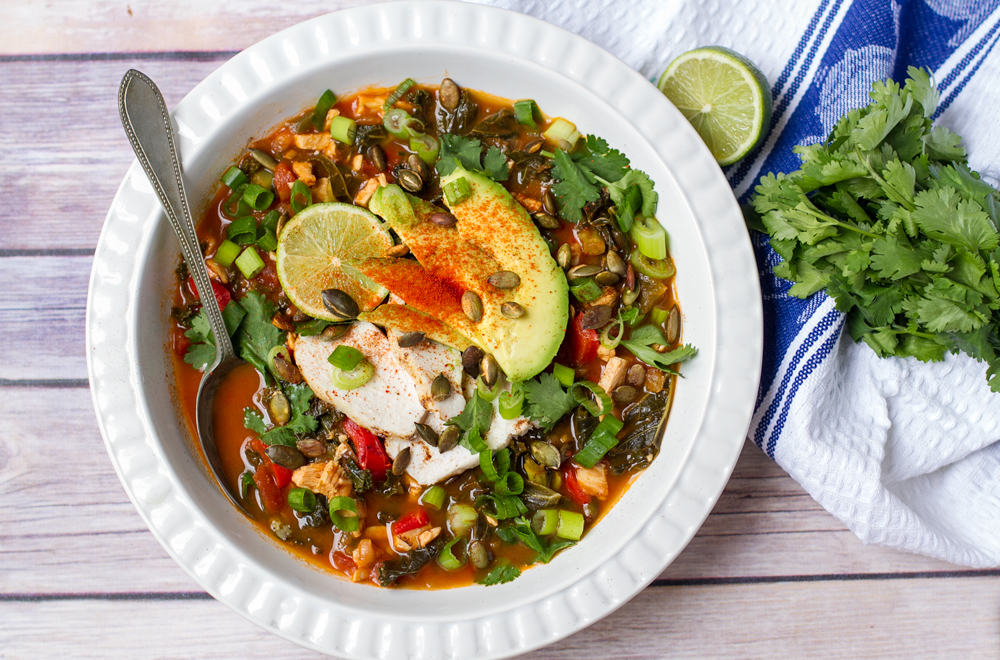 There are many versions of a tortilla soup and this is my own take on it. I wanted to create a recipe that's really quick and easy to make, perfect for a mid week dinner or lunch, and this one should only take you 20 minutes. Feel free to use fresh, raw chicken instead of pre-cooked chicken meat. Simply pan fry it for 6-8 minutes before dicing and adding to the soup. And beware, this soup is a little spicy but you can modify the heat by adding less jalapeños.
Ingredients
1 brown onion, diced
1 teaspoon coconut oil
½ large red pepper, diced
¼ cup pickled Jalapeños, finely diced (the ones you get in a jar in a Mexican section of the store)
2 cloves garlic, finely diced
1 teaspoon dried oregano
1 teaspoon ground coriander seed
1 teaspoon ground cumin
Knob of butter or ghee
1½ cups cooked, diced chicken (breast or thigh meat is good, I picked up some roasted chicken from the supermarket)
2 cups torn kale leaves
400 grams diced tinned tomatoes
2½ cups good quality chicken stock
Zest and juice of 1 lime (grate the zest first)
⅔ teaspoon sea salt
3 tablespoon pumpkin seeds
2 tablespoon diced spring onion
3 tablespoon fresh coriander leaves (a good handful)
1 avocado, sliced into strips (half per person)
A little dusting of paprika if you're feeling fancy
Instructions
Heat a medium saucepan with coconut oil and add the diced onion. Cook for a minute or two and add the red peppers. Stir and cook for another minute while chopping other ingredients.
Add jalapeños, garlic, oregano, coriander seed and cumin powder and a knob of butter. Stir and cook for about 30 seconds to release the aromas.
Now add chicken, kale, diced tomatoes, chicken stock, lime zest and juice and stir. Taste for salt. I added about ⅔ of a teaspoon of sea salt but you may need less depending on how much salt is in your chicken stock.
Bring everything to boil and cook on high heat for 5 minutes. Turn off and let it sit for 2-3 minutes while you prepare the garnishes.
Place pumpkin seeds in a small frying pan and cook on medium heat for about 2 minutes, stirring frequently. Keep your eyes on them so they don't get burnt. We simply want to toast them for extra crunch and nuttiness.
Serve soup in bowls, topped with fresh coriander, green onions, toasted pumpkin seeds and sliced avocado. And if you really feel like it, a couple of good quality corn chips won't do much harm ;)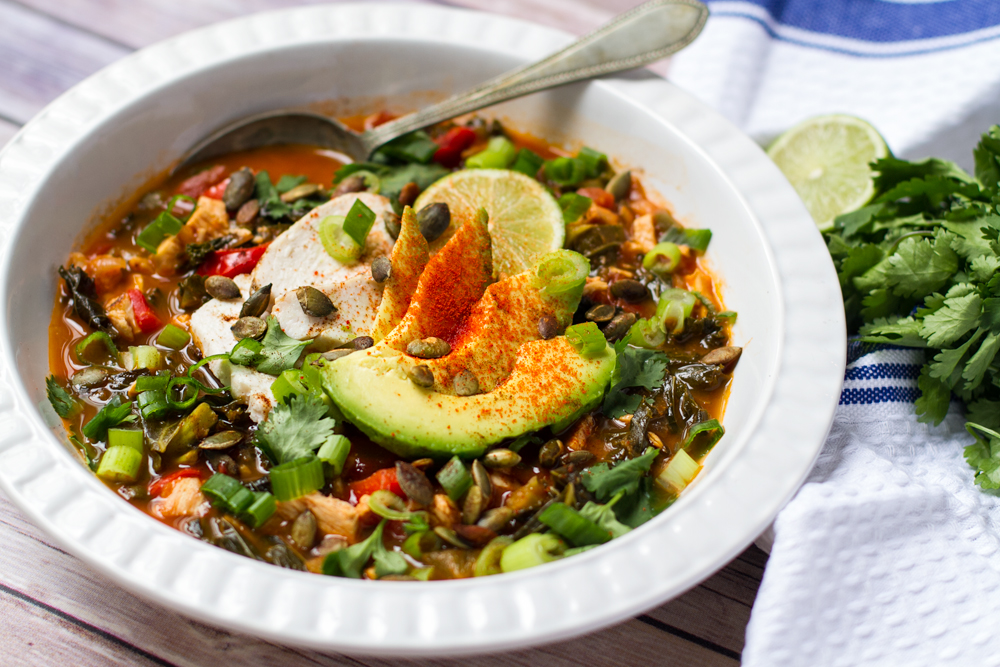 ABOUT THE AUTHOR
Eat Drink Paleo is a little (well, not so little anymore) passion project I started in 2012. My name is Irena and I am a bunch of different things: recipe developer, cookbook author, amateur food photographer, and a self-proclaimed web geek. When I'm not travelling the world or hiking through the bush in search of a climbing crag or a waterfall of some sort, I am in my small kitchen in London or Sydney, or in a local cafe typing away a new post.