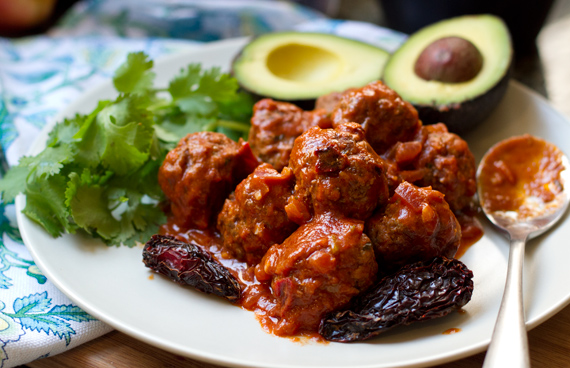 One of my favourite Tex-Mex ingredients is chipotle – a smoke-dried jalapeño (well the red ripe jalapeño, not the green one you're used to getting as a condiment).
Essentially, chipotle is a chilli pepper with a very smoky flavour and smell, a little like smoked paprika with mild, warm heat. Unlike most chilies that simply add some heat to the dish, chipotle adds an incredible flavour and depth. It's great with meats and seafood and can be found as dried peppers or tinned in brine or tomato sauce. Look out for it in the Mexican/International ingredients section in your supermarket or check with your local delis and specialty stores.
We served these meatballs with pan-fried shredded Brussels sprouts, broccoli, some chopped avocado and fresh coriander (cilantro). Absolutely delicious with lots of warm heat and flavour!
Ingredients
1 large brown onion, peeled and diced finely
1 tsp of lard or ghee (clarified butter)
For the meatballs mix
800g of grass fed beef mince (1.8 pounds ground beef)
3 medium dried chipotle chilies (tinned chipotle can also be used), seeds out
2 tbsp chopped fresh coriander (cilantro)
2 large garlic cloves, finely diced
1 tsp ground coriander seed or powder
1 tsp ground cumin seed or powder
1 tsp sweet or medium paprika
1 tbsp virgin olive oil
1 ½ tsp of sea salt
2 tbsp lard (I used a mix of lard and ghee)
For the sauce
½ of the onion mentioned above
2 garlic cloves, finely chopped
2 medium chipotle chilies, seeds out
½ tsp ground coriander seed or powder
1 tsp ground cumin seed or powder
½ tsp paprika
2 bay leaves
400g of diced tomatoes or tomato puree (about 1 ½ cups)
½ tsp sea salt
Instructions
If using dried chipotle chilies, place in hot water for at least an hour before using to rehydrate.
Sauté the onion in lard or ghee for 3-5 minutes, until translucent. Use half of the onion in the meatball mix and reserve the rest for the sauce.
While onion is cooking, pre-chop other ingredients for the meatballs. Slice the chipotle chilies in half and remove the seeds. Chop or grind with mortar and pestle.
Combine beef mince with half of the cooked onion, chopped garlic, chipotle chilies, paprika, cumin, coriander seed, salt and olive oil. Combine and knead with your hands. Using clean, wet hands roll the mix into small balls (somewhere between a walnut and a golf ball size). Set aside until ready to cook.
Preheat a dollop of lard in the large frying pan until sizzling hot. Cook the meatballs on medium/high heat for 3 minutes on each side, until well browned.
Add the rest of the cooked onion, garlic, two chopped chilies and sauce spices to the pan with the meatballs. Stir through and add the tomato puree. Combine and cook for 8-10 minutes uncovered, stirring frequently to make sure the meatballs cook evenly and the sauce is well combined. Taste for salt. Drizzle with a little lime juice before serving.
Cook's notes:
I used dried chipotle peppers, which need to be soaked first if you plan to chop them. If slow-cooking a pot of soup or meat, you can add whole dried peppers and they will rehydrate while cooking. If using tinned peppers, give them a taste first to see how hot they are. I find that dried chipotle pepper can be hot to taste but after cooking it loses some of the heat so don't be afraid to use 1-3 peppers. Beef can be replaced with pork or chicken or half and half. I use lard for frying as it's very stable at high temperatures and adds a wonderful flavour to the dish but you can also use ghee (clarified butter), duck fat, macadamia oil or coconut oil (the flavour will be altered with coconut).
Can't find dried or tinned chipotle or chipotle powder? My instincts tell me that a mix of red chilli powder and smoked paprika would be as close as you can get. For Aussies, you can order them online here and here, and for North America & Europe, I believe you can find chipotle on Amazon.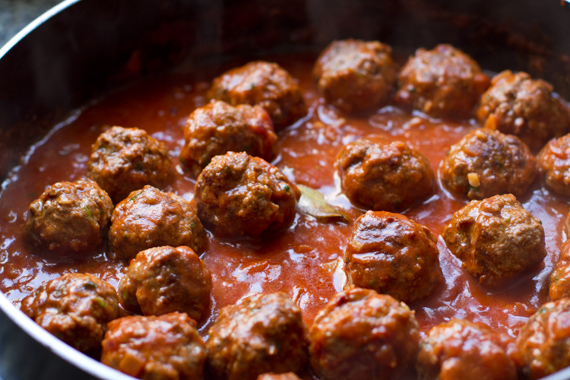 ABOUT THE AUTHOR
Eat Drink Paleo is a little (well, not so little anymore) passion project I started in 2012. My name is Irena and I am a bunch of different things: recipe developer, cookbook author, amateur food photographer, and a self-proclaimed web geek. When I'm not travelling the world or hiking through the bush in search of a climbing crag or a waterfall of some sort, I am in my small kitchen in London or Sydney, or in a local cafe typing away a new post.