When it comes to CrossFit® marketing, your online appeal will play a huge role in how many new members you get walking into your box. The industry is highly competitive and if your digital presence isn't up to scratch then you are certainly losing out to your competitors. It goes without saying that your website should be performing at a high level but so should your social media. In this article we are looking at The Best CrossFit® athletes and marketers To Follow On Social Media and what you can learn from them.
#1 Kara Webb
Placed #1 at the 2013 CrossFit® Australia Regional Games Australian, CrossFit® champion Kara Webb, rocks her channel on Websta, formerly known as Webstagram where she has over 35,000 followers. By posting her successes, photos and updates she maintains contact with followers and motivates many others to follow in her footsteps.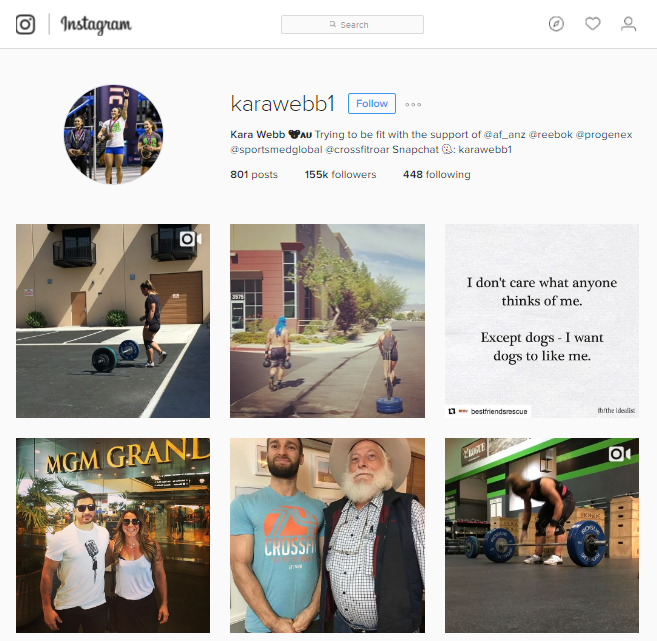 #2 Rob Forte
Rob Forte is a world class CrossFit® competitor and coach, who has competed at the CrossFit® Games in 2011, 2012, 2013 and 2014. Finishing in the top 5 of Australia's CrossFit® leader board, Rob has an impressive Instagram account with nearly 12,000 followers. Rob posts some pretty impressive body shot photos too in addition to promoting his achievements and competition appearances.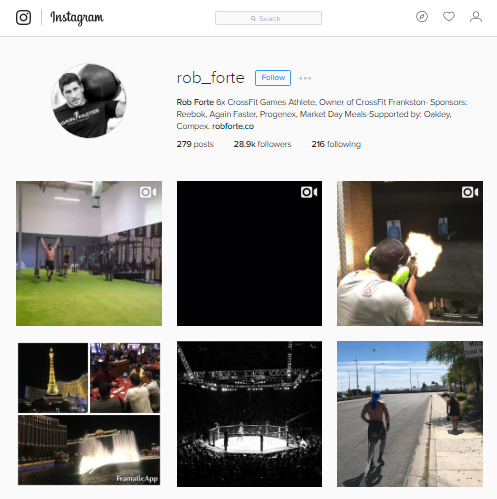 #3 Ruth Anderson Horrell
Ruth represented the Australasia region at the World Reebok CrossFit® Games in 2011, 2012 and 2013. Ruth rocks the CrossFit® blogging world with a website incorporating recipes, training tips, an event blog and a very impressive online store selling promotional products, gifts and training aids. Ruth also uses YouTube effectively to promote her own CrossFit® brand.
#4 Pip Malone
Legendary Australian athlete and two times CrossFit® games champion Pip Malone has over 8000 followers on Facebook and is very active in her posts. Sharing exercise photos and instructions with followers, Pip not only has a large following but also a very engaged following with social media users keen to interact with her.
#5 Jon Gilson
Founder and Chairman of Again Faster Equipment, Jon Gilson, legendary CrossFit® marketing guru of course has a strong social media presence. With a strong and interactive presence on Facebook, Twitter and Linkedin, Jon promotes upcoming seminars, marketing tips and consultancy services.
#6 Jason Kalipa
Us born Jason Kalipa, was named to Team USA 3 times, won the Spirit of the Games award in addition to opening 3 additional commercial NorCal CrossFit® locations in San Jose, Mountain View and Redwood City. Jason is a Twitter legend with over 84,000 followers. Jason's Twitter approach is successful because he shares updates, photos and regular family tweets which followers can identify with.
#7 Rich Froning
American born CrossFit® champion Rich Froning has nearly 54,000 Facebook fans and it's no surprise. Rich is 2x Reebok CrossFit® Games Champion and became the first person to win the title of "Fittest Man on Earth" four times with his first place finish in the 2011, 2012, 2013, and 2014 CrossFit® Games. Rich posts exercises, tips and nutritional advice to his Facebook page which is lapped up by CrossFit® enthusiasts the world over.
You may not be a superstar CrossFit® athlete or marketer like these guys but that doesn't mean you can't create a superstar presence on your social media sites.
For more information about marketing your CrossFit box, you can get in touch with the WodSites team at info@wodsites.co.