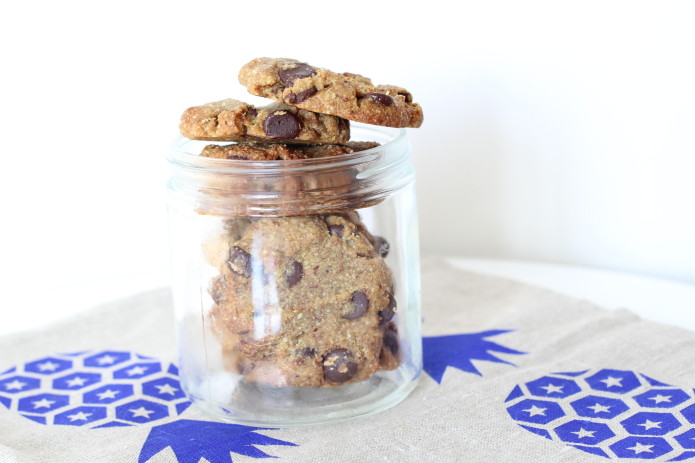 Choc chip cookies with 4 ingredients! Say whaaaaatt?!? I know. How is that even possible? Well it's not only possible, I'd go as far as to say these are the best choc chip cookies ever….. And I've eaten a few (hundred) cookies in my time. They are crispy on the edges and chewy in the centre and they make a totally kick-ar$e ice cream sandwich. What more could you want from a cookie? Just a community service announcement, you are going to want to hide these from yourself once they are done or feed them to others because otherwise you will consume approximately 14 cookies. This recipes makes approximately 14 cookies depending on how much dough you eat. Would it be wrong to eat them all at once? Asking for a friend. Obviously.
2 cups almond meal/hazelnut meal
4 tbs honey/rice malt syrup/maple syrup/ coconut nectar
3 tbs ghee/butter/coconut oil
1/2 cup dark choc chips (or whatever kind of choc chips floats your boat)
Preheat oven to 170C. Add the almond meal & choc chips to a bowl. Add the ghee & honey to a mug and stir well to combine. Once that deliciousness is mixed pour it over the dry ingredients and mix them all together well until you have a dough that somewhat resembles the below image. If you use blanched almond flour you will have a lighter colored dough but don't be racist, just use whatever you have.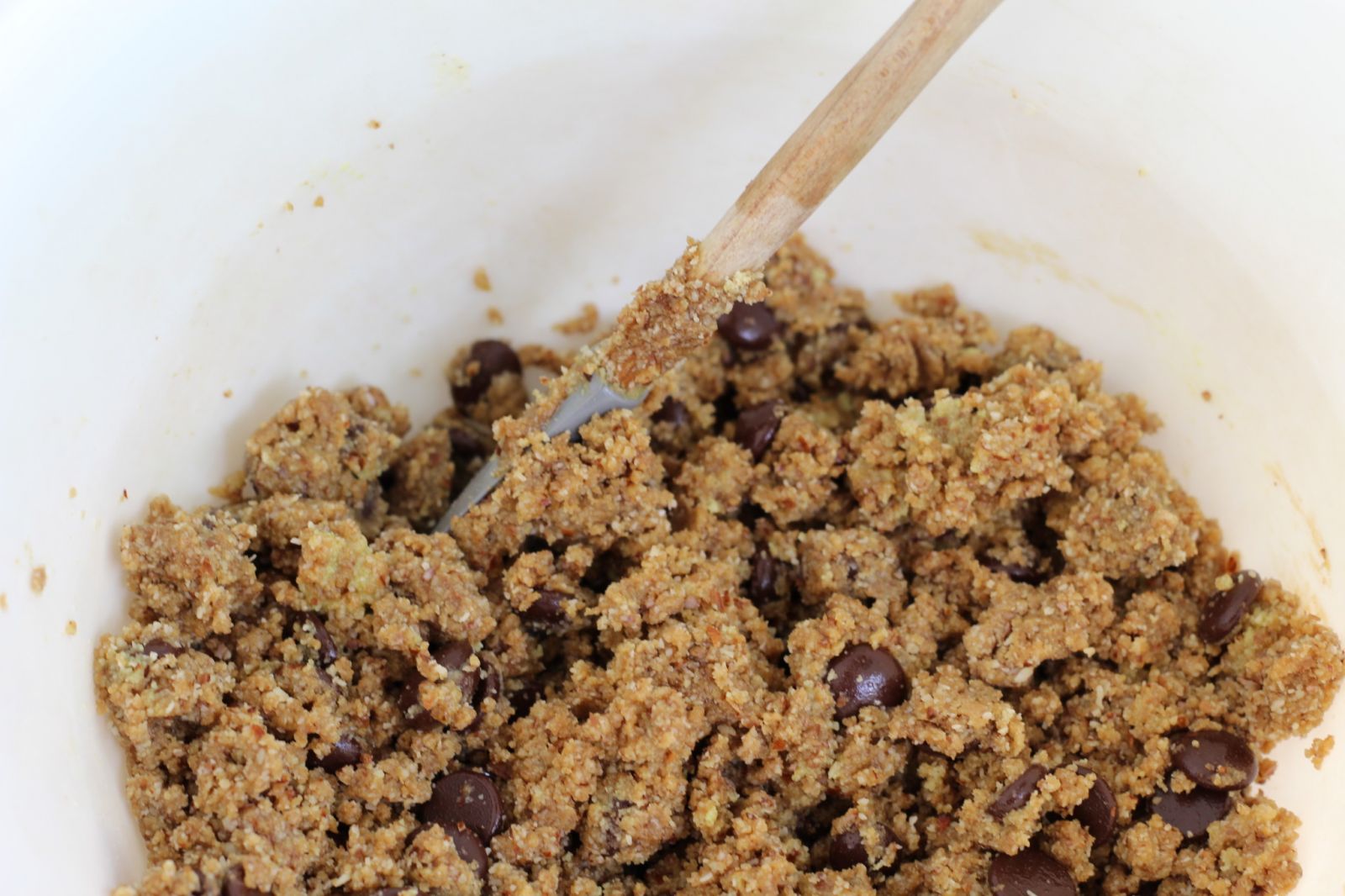 Now, before you eat all the raw cookie dough, roll it into balls then flatten them into cookie shapes on your baking tray like so. Come to think of it, you could totally leave these as balls and eat them raw or have them as a raw cookie, or in ice cream as cookie dough…. The possibilities are endless.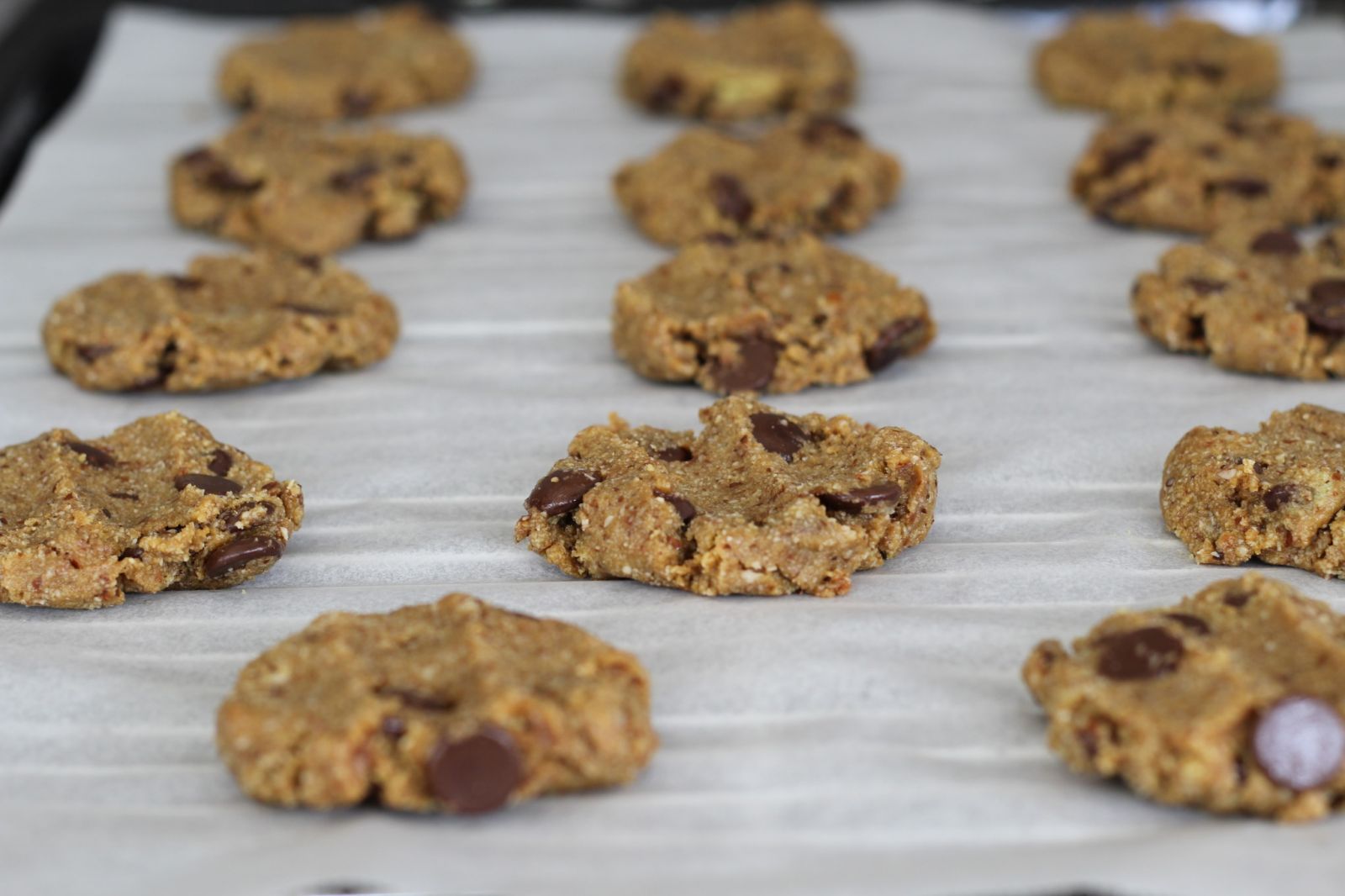 Now pop them into your preheated oven for 10-12 minutes until just starting to brown around the edges. Remove from the oven and allow to cool for 15-20mins. That part is essential for 2 reasons…. The cookies need time to set as they cool &, perhaps more importantly, that business will burn the cr@p out of your tongue straight from the oven. These will keep really well in the fridge for up to a week or in the freezer. They would also make a brilliant ice-cream sandwich. Just saying.
ABOUT THE AUTHOR
So who am I? My name is Shan Cooper. I have a food blog called MyFoodReligion. It is devoted to Pure Unadulterated Food. Food that is good for the body and the soul. Food that makes you feel good from the inside out. It is clean eating that is full of flavour! In terms of my qualifications in food, I have none but I love to cook it and eat it! I have done a lot of research into nutrition and various 'food religions' and love to learn about food, how our body's process it and respond to it. Ab's are made in the kitchen and you cannot out-train poor nutrition.