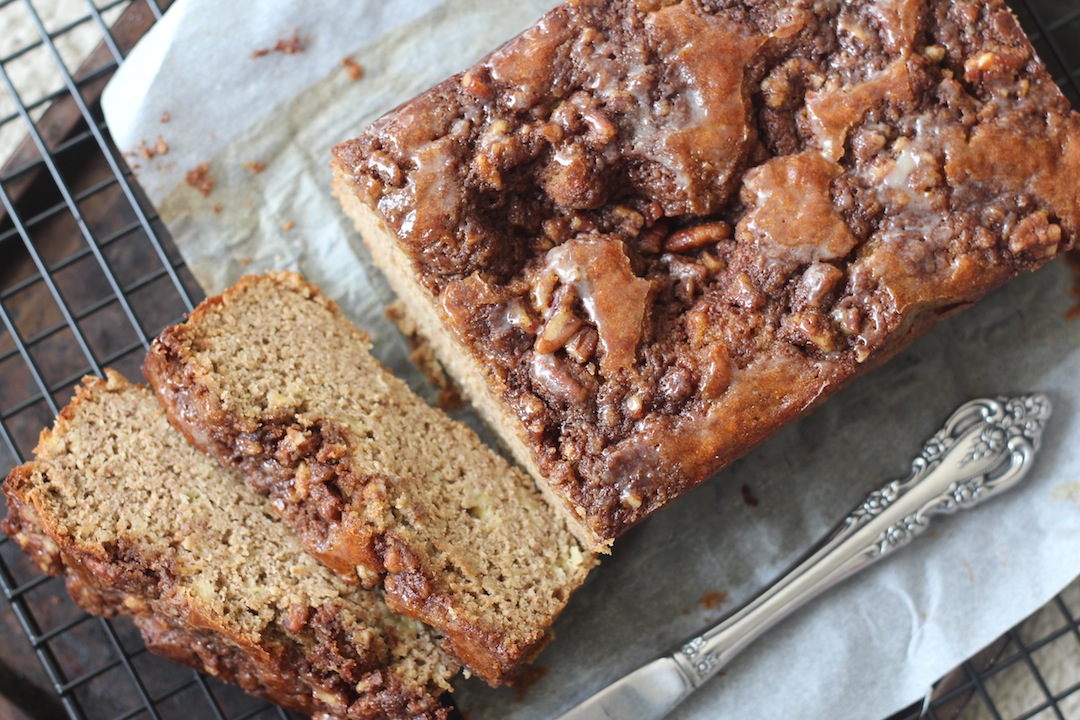 Say what?? I want to eat this all day. No seriously. I almost did yesterday.
After the boyfriend and I found out we couldn't come to a conclusion (on buying a couch), we headed to brunch. Around 3. I was starving. Hangry. After a couple mimosas, I felt decent for them not being as strong as needed on a sunny Sunday. But I knew I wanted to make this recipe. So we bolted home for him to take an afternoon snooze and for me to bake. And I baked. And failed. I put this recipe into a too small baking dish and it pretty much went every where. All over the oven. I mean…I still ate the edible parts. But the non edibles turned into smoke inside the oven. So I then cleaned the oven and couched it for a while in frustration. But I couldn't go down that easy, so I made it again last night and just stared at it since I couldn't eat it until I took pictures until today. Which leads me to right now. This very moment. I just took pictures of this beauty. Now go make it. It's amazing.
3 brown bananas, mashed
¼ cup maple syrup
1 teaspoon vanilla extract
3 eggs
½ cup almond butter (or other nut/seed butter)
¼ cup coconut flour
½ teaspoon baking soda
½ teaspoon baking powder
1 teaspoon cinnamon
pinch of salt
4 tablespoons (1/4 cup) grass fed butter, at room temperature (or coconut oil)
2 tablespoons coconut sugar
2 tablespoons almond flour
1 teaspoon cinnamon
¼ cup pecans, crushed
Preheat oven to 350 degrees. Grease an 8.5×4.5 baking dish with oil then line the middle with parchment paper. It will make it easier to remove from the pan without it coming apart.
In a large bowl, mix together bananas, maple syrup, vanilla extract, eggs, and almond butter.
Then add coconut flour, baking soda, baking powder, cinnamon and salt and mix well.
Pour batter into baking dish. Place on a baking sheet.
In a small bowl, add butter, coconut sugar, almond flour, cinnamon, and pecans. Use your hands to mix the toppings together.
Place chunks of the toppings all around the top of the banana bread mixture.
Place in oven to bake for 50 minutes.
Remove from oven, place on cooling rack and let rest for 5-10 minutes before cutting and serving.
Aside from being the author of the PaleOMG blog, Juli Bauer is also a CrossFit coach. She has also published several cookbooks like "OMG. That's Paleo?" and "The Paleo Kitchen: Finding Primal Joy in Modern Cooking". For Juli, paleo cooking isn't just a trend. "All I really want out of this blog is to make you laugh and inspire you to eat something delicious. If you don't cook, then stop looking at food blogs while sitting at your desk at work. Go to the grocery store, buy fresh food and cook it. " Juli's easy-to-read recipes make the paleo diet digestible (pun absolutely intended), approachable, and non-intimidating.