As a gym owner or coach, you've likely given a lot of thought to the equipment you choose for your facility. But have you ever considered what the colour of your barbells might be saying about you and your gym's character?
Colour psychology is a fascinating field that explores how different colours can evoke different emotions and perceptions. Let's delve into what the colour of your barbell might be communicating to your members.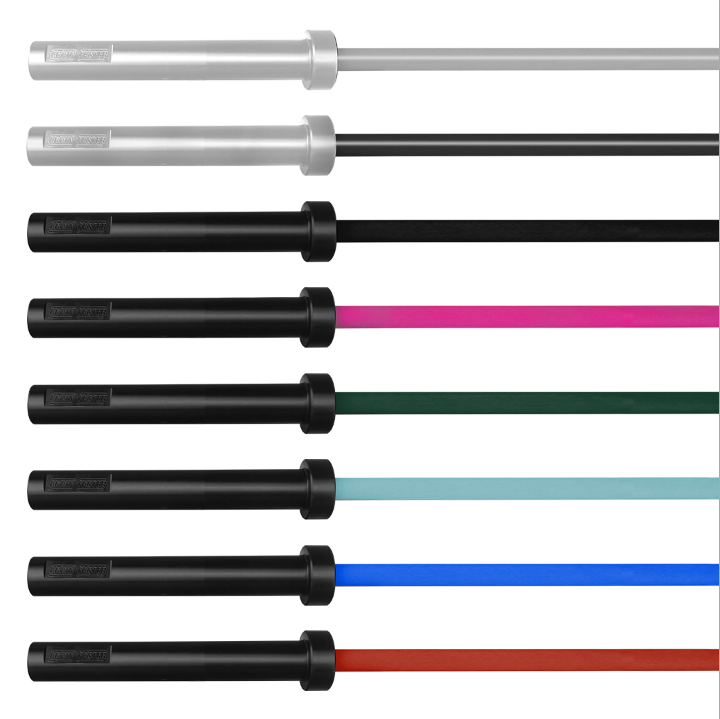 Blue Barbells
Blue is often associated with trust, dependability, and strength. If you've chosen blue barbells for your gym, it suggests that you value stability and reliability. You're likely someone who prioritises consistency in your training and fosters a sense of loyalty and trust within your gym community.
Red Barbells
Red is a colour that evokes feelings of excitement, passion, and energy. A gym with red barbells is likely to be a place that's buzzing with intensity and dynamism. As a gym owner or coach, you're probably someone who loves to push boundaries and inspire your members to reach their full potential.
Black Barbells
Black is a colour that communicates sophistication, power, and authority. If your gym features black barbells, it suggests a serious, focused environment where members are encouraged to train hard and strive for excellence. You're likely a coach who sets high standards and fosters a disciplined, committed training culture.
Silver Barbells
Silver is often associated with modernity, high-tech, and sleek design. Silver barbells in your gym might suggest that you're forward-thinking and value innovation in your training methods. You're likely a coach who embraces new ideas and technologies to enhance your members' training experience.
Pink Barbells
Pink is a colour that communicates compassion, nurturing, and understanding. If your gym has pink barbells, it suggests a welcoming, inclusive environment that caters to everyone, regardless of their fitness level or experience. You're likely a coach who prioritises creating a supportive, friendly community where everyone feels at home.
Yellow Barbells
Yellow is associated with positivity, joy, and energy. Yellow barbells in your gym might suggest a fun, vibrant atmosphere where training is enjoyable and energising. You're likely a coach who believes in making fitness fun and fosters a positive, upbeat training environment.
Green Barbells
Green is a colour that symbolises growth, health, and balance. If your gym features green barbells, it suggests a focus on holistic health and personal growth. You're likely a coach who values balance in training and encourages members to take care of their overall wellbeing.
Choosing the right barbell colour can add a unique touch to your gym and subtly communicate your values and character. At Again Faster, we offer a range of coloured barbells to suit every gym's personality, including custom colour special order. Whether you're all about intensity and passion or balance and growth, we've got a barbell colour to match your character.
Explore our range today and find the perfect fit for your gym »
Got a question about gym equipment or need assistance with fitting out a gym?

Don't hesitate to get in touch with us or message Jed at jed@againfaster.com.au.
Fill out the form below and we'll be happy to help!