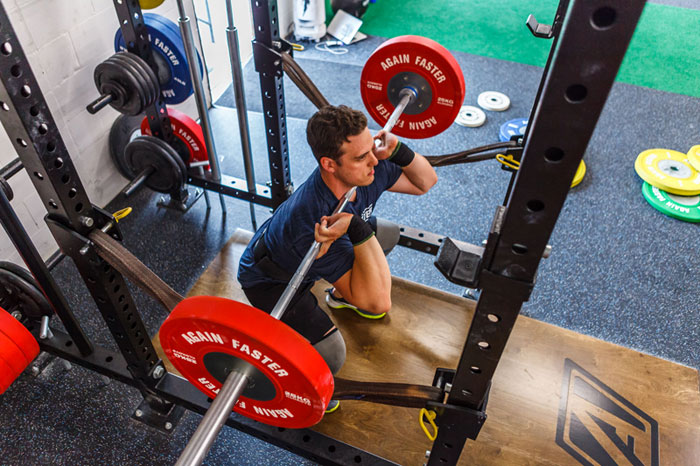 If you've ever trained with a good Power Rack, you'll know how much they can benefit you. And if you're looking to buy a Power Rack, your mind is probably 80% already made up that you are going to get one. This article will give you that extra 20% of information to get you over the line and get the Power rack you need.
See the range of Again Faster Power Racks at the end of the article.
You will train and progress safely
Beginner lifters need a solid base to train safely. If you've ever handled heavy weights using spindly, independent squat stands you know what I'm talking about. It can be really difficult to line up those bar hooks when you are trying to rack the bar. You need to line up both hooks just perfect as the stands teeter, rock and move away from you. Even 60kgs can be a tough to rack, and when you're first starting out, 60kgs can feel like a lot of weight.
Power racks also allow intermediate lifters the opportunity to progress more quickly. It's a safe-haven to test yourself when you are in that period of huge gains. Intermediates can hit big PRs consistently in this phase and often technique and strength are at odds. Intermediates walk that tight rope of chasing a new PR by sacrificing technique. Let's face it, we've all done it and a good Power Rack with solid J-hooks along with spotter's pins and safety straps are just the thing to keep these guys lifting safely and hitting those big PRs.
Advanced athletes can also benefit from using a power rack. They've made all the big gains and now the real training has begun. So, they need a rack that allows them to push it to the limit, fight for every kilo and avoid injury. The last thing an advanced athlete wants to do is take an extended break from training when they are at the top of their game. A power rack can help keep them at the top of their game and training safe.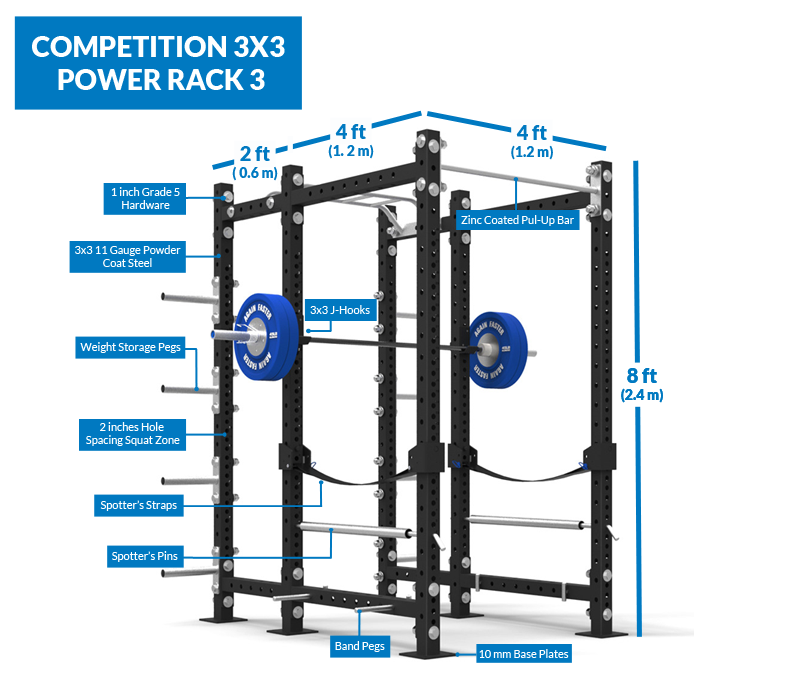 It's more functional than you think
Again Faster 3x3 Power Racks can be mixed and matched with heaps of accessories and add-ons. Our Competition 3x3 Power Racks come with several accessories as standard and you can also add on any of our 3x3 pull up rig accessories to the mix. When you pair these add-ons with the smaller footprint, you've got a great place to train in a very small space.
Also, if you consider all the different styles of training, a Power Rack can accommodate pretty much any one of them, which gives you a lot of flexibility and variation as your tastes in training change. Clearly, you can do strength work, functional fitness, CrossFit, Power lifting, accessory work, position work and the list goes on. You really can get a lot of value out of a Power Rack.
They are mobile-ish.
Look, Power Racks are heavy, but you can move them fairly-easily if you need to. You can also bolt them to the floor if you need them to not move. It's a great option if you don't want to commit to erecting a structure like a pull up rig and bolt it to the wall. With no structure to dismantle and a few strong friends, you can move a Power Rack to the other side of your training area in a few seconds, instead of having to take a day to pull something down and put it back up again. Power Racks are also great if your gym is growing or expanding, or you'd like to set up several training zones.
Any way you look at it, a power rack offers something to everyone. With the mix of safety, functionality and mobility, if you're in the market for a Power Rack, you can't go wrong.