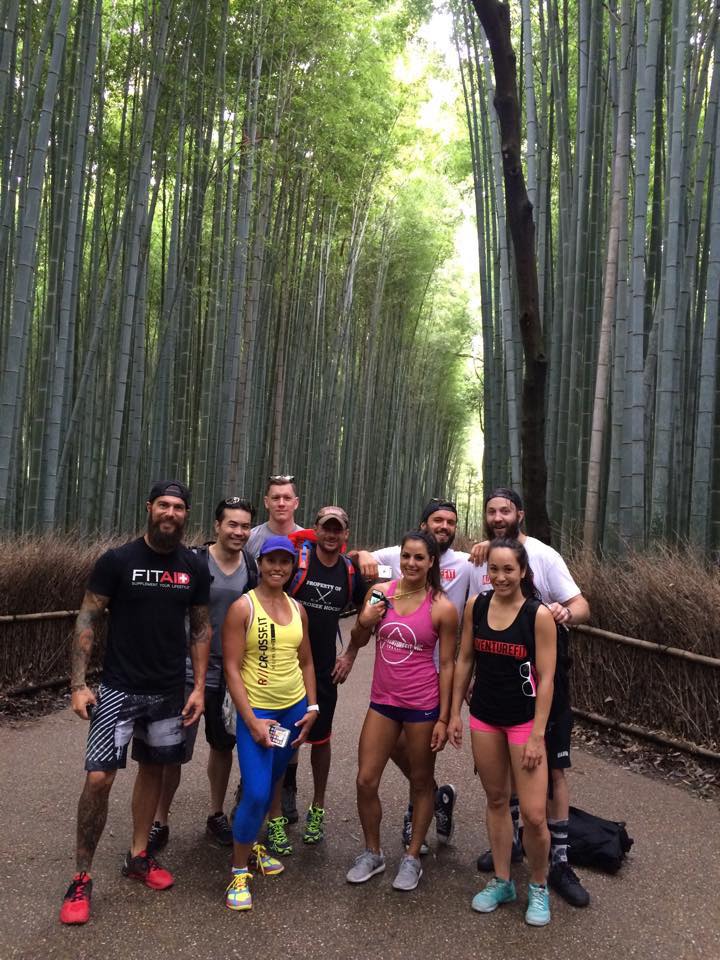 I nearly died a couple years ago.
I don't normally tell anyone about my rare condition, but back in 2012 I had major brain surgery to save my life. It was the scariest and hardest thing I've ever been through - but accepting that it's lying dormant is a constant challenge. Not knowing when it could attack again, I decided that once I regained my strength I wanted to travel and explore life - not leaving any moment unlived.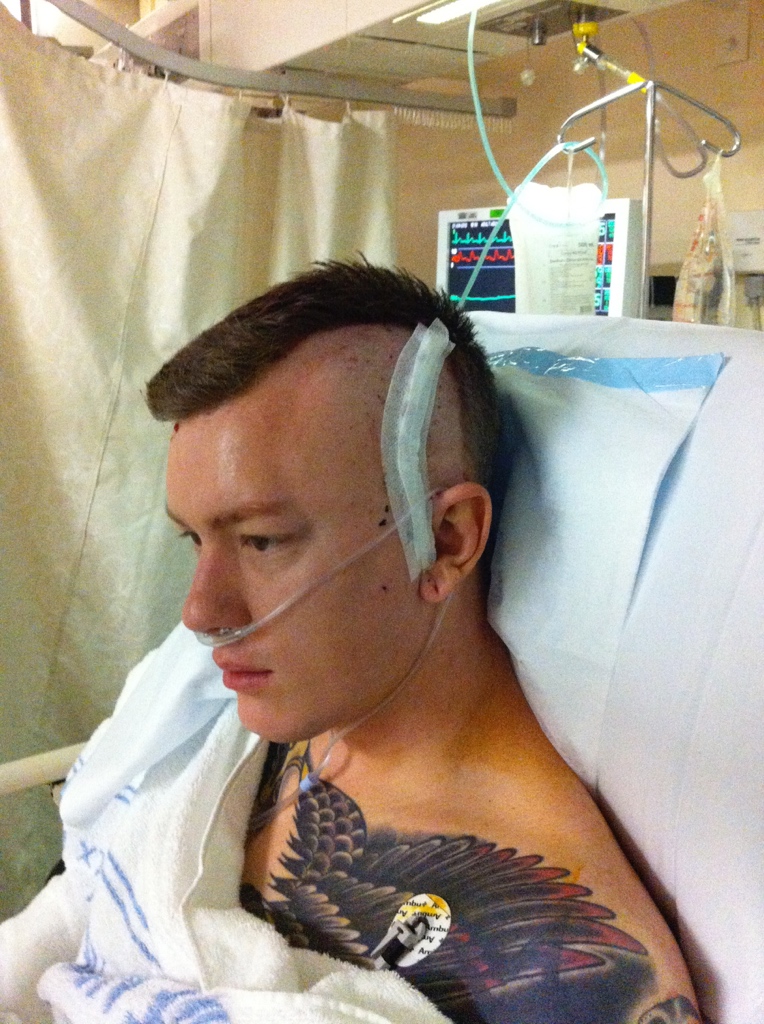 Getting ready for the trip wasn't so easy!
Back in May 2015 I saw a post for the AdventureFit Travel Japan trip that was going to kick off in the first week of September. Reading over the itinerary I knew this was the journey I've been waiting all year for. What would be more spectacular than seeing a picturesque sunrise over the top of Mt Fuji - after all it is the land of the rising sun. I made contact with Bill, aka DOC, and paid my deposit. I was officially counting down the days until this incredible adventure began.
Three months before the trip was meant to commence and just before my 30th Birthday, I ended back in hospital with similar symptoms to those that caused me to have my surgery in 2012. Scans and tests were conducted by the Neurology and Stroke department of the Royal Women's Hospital to see if my previous surgery was still effective.
The Head of Neurology then came to visit, to let me know the findings of my tests - my artery that supplies the blood flow to the left side of my brain was holding up and they were happy to discharge me. My only question to him was if my condition would stop me from going to Japan and achieving the summit of Mt Fuji. He looked at me and with a blank face and said "We do not know what will happen to you at that altitude". Because of my odd question he thought the only way to assess this was by doing an altitude test in the hospital. I met with the Respiratory Scientist and he informed me of the tests they were going to perform. First they started me off walking with a facemask hooked up to a machine that was controlling the oxygen levels I was breathing. One of the doctors was watching the computer screen, whilst the other two were monitoring me in case I became unstable and had another episode.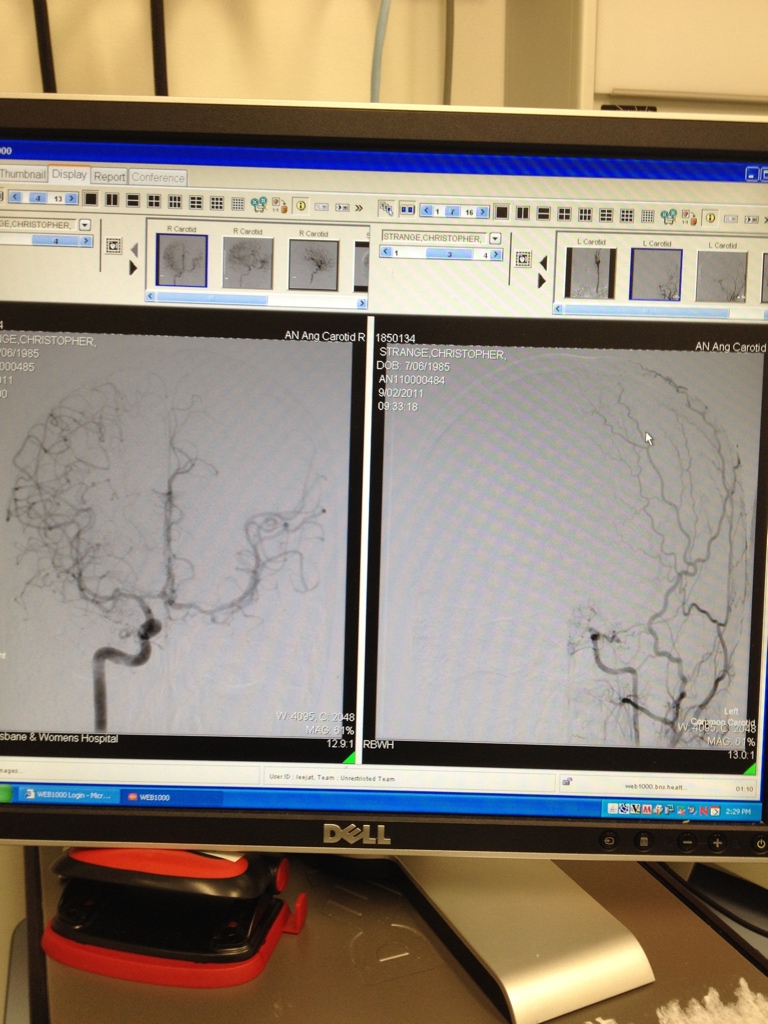 At one point the doctor examining me asked how I was feeling and whilst I said "I'm all dandy", I was really fighting to keep my breathing pattern steady. To my surprise, the Doctor told me that the test was simulating the same altitude as base camp at Everest.
The examination was complete, I was astonished I passed and that basecamp is still in my sights to knock of my bucket list. After my stint in the hospital I emailed Doc to let him know what was happening with my health and that the doctors have cleared me for the trip. I had to keep training to a minimal and had to work slowly back into it as it could cause my symptoms to return.
After the good news, I went through my hiking gear and realised I had to pick up some new equipment to make sure my stay was not only going to be comfortable, but strong enough to endure the conditions of the expedition ahead. I set off to my local store, K2 Basecamp in Brisbane. The crew there provided amazing customer service and their confidence in what they are selling was beyond reassuring. I was excited to use my gear, and kept working on increasing my fitness - my training at CrossFit was stepping up to the next level and I was impressed on the results I was achieving.
The day finally came. I was dropped off to the domestic airport in Brisbane and walked my way through to get to my gate for boarding. I had a short relaxing flight to Cairns where I exchanged to the international airport to head to my destination. Arriving in Osaka was a stunning sight, and I was ready to hit the ground to investigate my new surroundings. I spent the next few days exploring my new neighbourhood, visiting to Universal Studios and walking around the city, taking in the beautiful Japanese culture.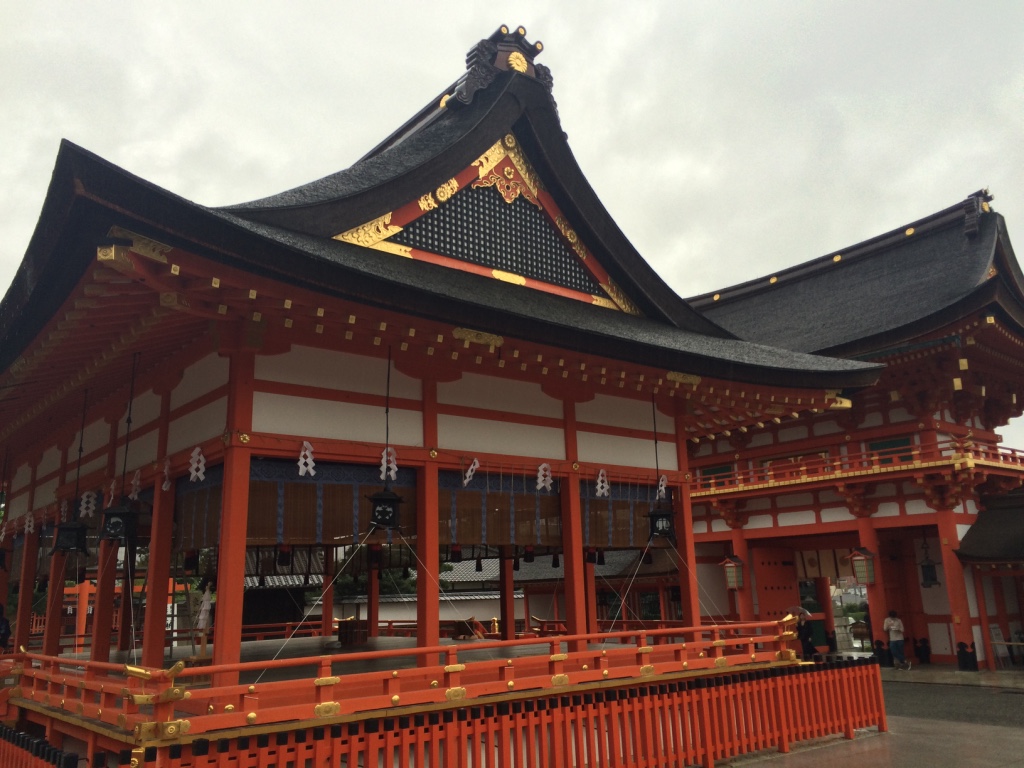 I made it to Japan alive.
After my days alone I had to find my way to Kyoto to meet up with Doc and the rest of the crew from AdventureFit. I jumped on the JR train line and headed towards Kyoto. It was great to see the communities along the train line. Everything was so neat and compact to fit in as much infrastructure as possible. As I arrived I was admiring the buildings when I heard a couple of American accents - it was Jackie and Dave the other leaders of the trip. I introduced myself and we had a good chat as we were walking towards our hotel.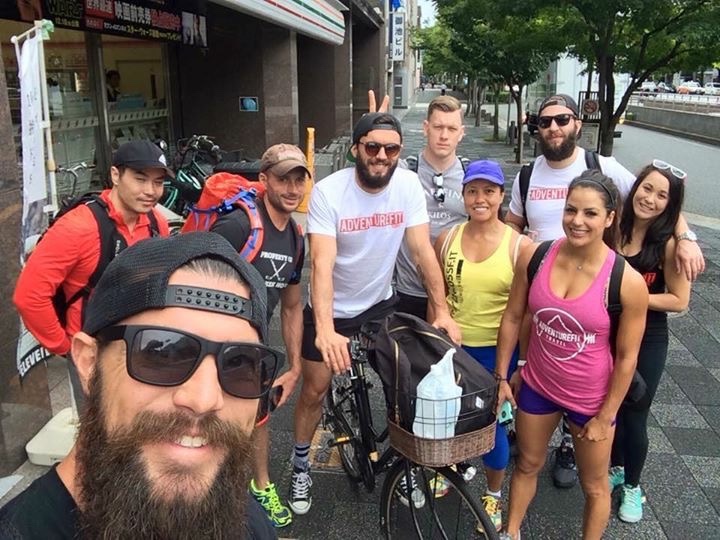 After we all got settled in Doc took us all out for dinner to get to know each other a bit better. The atmosphere of the group was awesome – with everyone talking and getting along so well. Throughout the whole stay in Japan with the AdventureFit team, it was really humbling to have the rest of the travellers so down to earth and eager to get out and experience all the adventures Doc had planned for us. Every day was a day I'll never forget from riding bikes through the streets of Kyoto, standing in awe of the bamboo forest, paying our respects to the towering temples, a training day with CrossFit Games athlete Denae Brown, white water rafting down the rivers of Minakami and becoming a Samurai warrior. There was a lot more that we all got to experience but the two days that made the trip for me was the incredible ascent to the summit of Mt Fuji.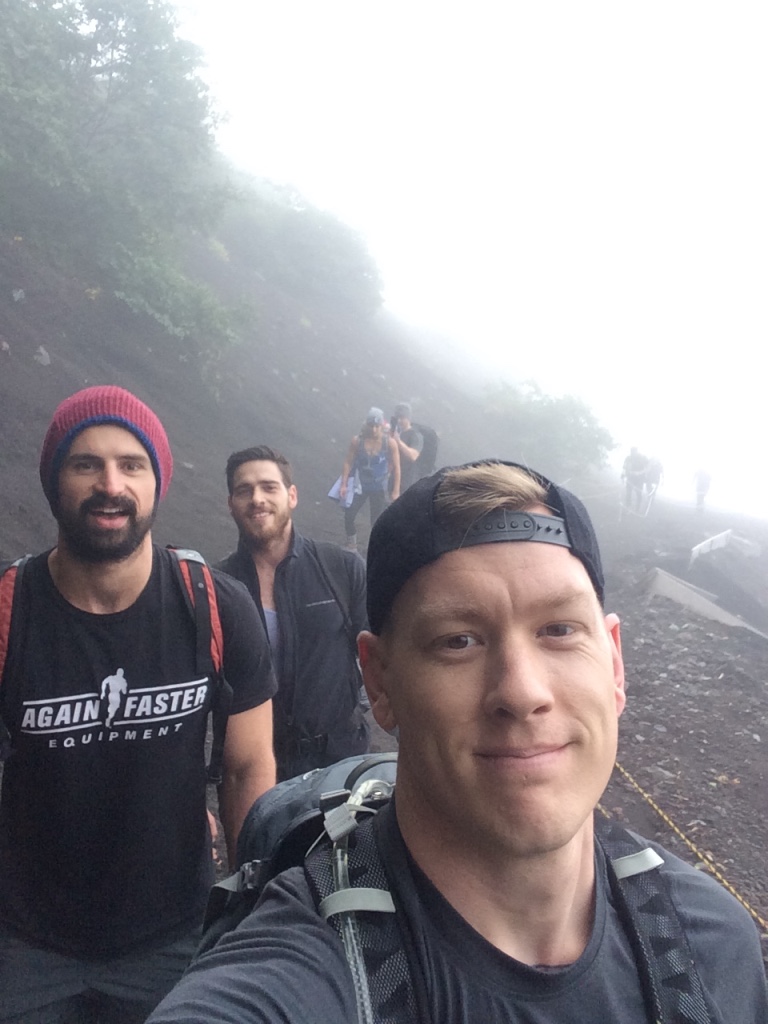 Mt Fuji – Day 1 – 10/9/15
I awoke feeling refreshed and ready for the long walk ahead. Although the accommodation was a small capsule hotel in Tsukiji Tokyo, having the sound of pouring rain the whole night made it one of the comfiest sleeps I had whilst being in Japan. We began our trip with a quick train ride to Shinjuku to exchange onto a bus. As we were cruising southwest down the highway I was sitting back listening to music when in the corner of my eye I saw our
3,776-meter challenge ahead. It was incredible to see the mountain from a distance and to think in a couple of hours I'd be hiking this monster. Its magnitude cannot be grasped until you see it with your own eyes.
The bus pulled into 5th station to drop us off at the starting point of the hike; this is where we refuelled with a traditional Japanese lunch and quick grab of keepsake souvenirs. At this point most of the team was putting on extra layers as the temperature dropped and we all started to feel the cool atmospheric change from the past few wet humid days we experienced in Tokyo. We started the ascent in the afternoon and everyone was very keen and enthusiastic to begin the initial leg of our hike. We all huddled around and got a big group photo of our smiling faces that were all about to be turned into sweaty frowns. The first couple of kilometres had green shrubs and trees surrounding us until we reached a point where you could tell that this old girl was a true volcanic mountain. The brown red rock and dirt seemed like we were on Mars and once the beauty of the green disappeared you felt the altitude hit your chest and my long strides become smaller and smaller.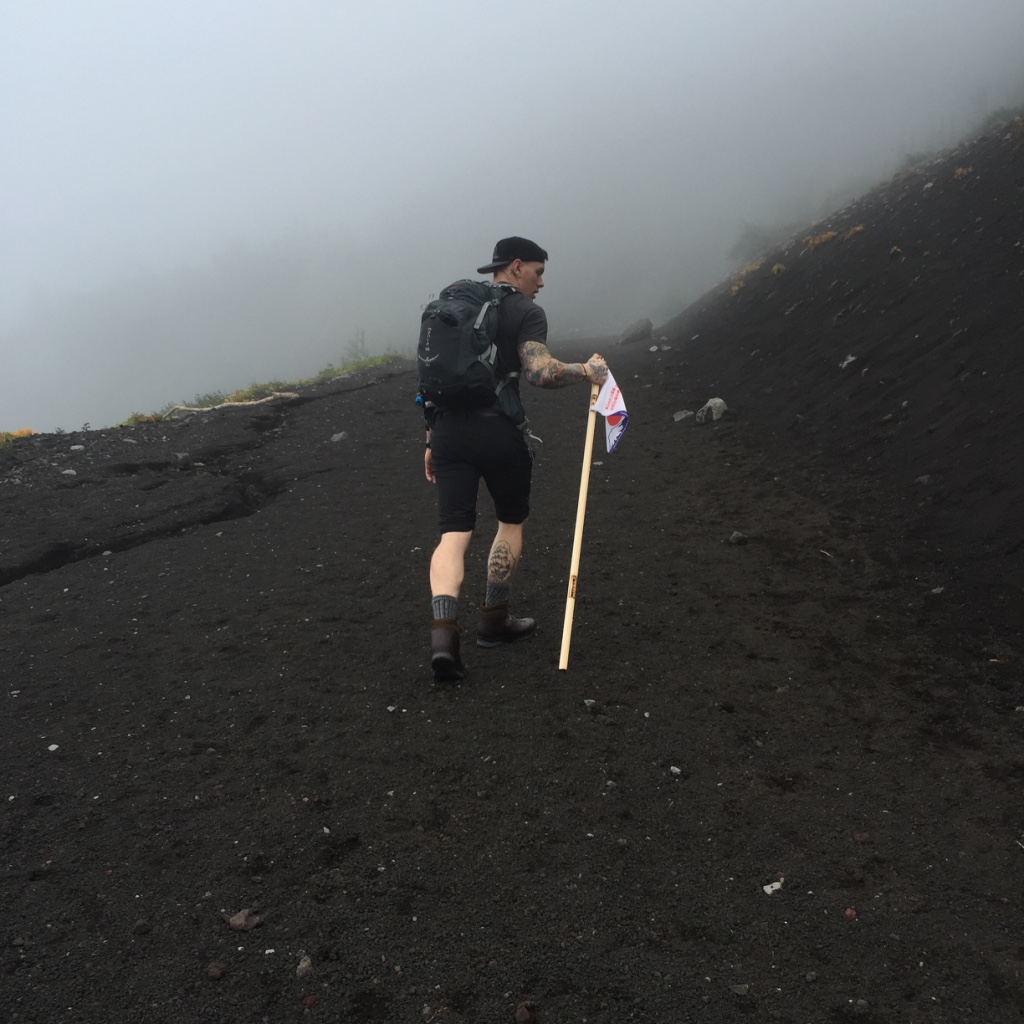 After a while we saw our first checkpoint and everyone was ready to stop to drink while the others caught up. At the start of the hike I purchased a walking stick that I could get stamps burned in at every station for 200 yen. This gave me a little longer resting time, but I had to walk faster to catch up to the Hang Strong boys; who kept a damn good pace the whole way for their first ever mountain hike. Every time I'd catch up my breath was getting heavier and my legs were starting to burn out but I was able to keep the rhythm going to stay in the group. At one point we all stopped for Tom to do a handstand on rock wall - and I must say it was pretty impressive. At this time a few of the others caught up and as we all had a brief timeout and the clouds that originally coved our heads started to disappear to reveal the stunning landscapes beneath us. On the other hand, when you looked up all you could see was the steep incline of zigzag trail ahead of us.
There were some parts of the day where you thought your legs were not going to move, and though I've done a heap of multiple day hikes back home and have never had an issue, this was challenging. The continuous incline was really something. Some hikers had little oxygen bottles to give them a full breath as the altitude was affecting their ability to keep moving. Arriving at the stations was a blessing as you regained your breathing and you got to eat some food to keep your body replenished. The best treat was having a cup of hot noodles and a sneaky hot chocolate to keep you warm. As we got higher and higher the unfriendly cold was getting a little harsh so I had to layer up and put on my jacket and gloves to keep my body warm.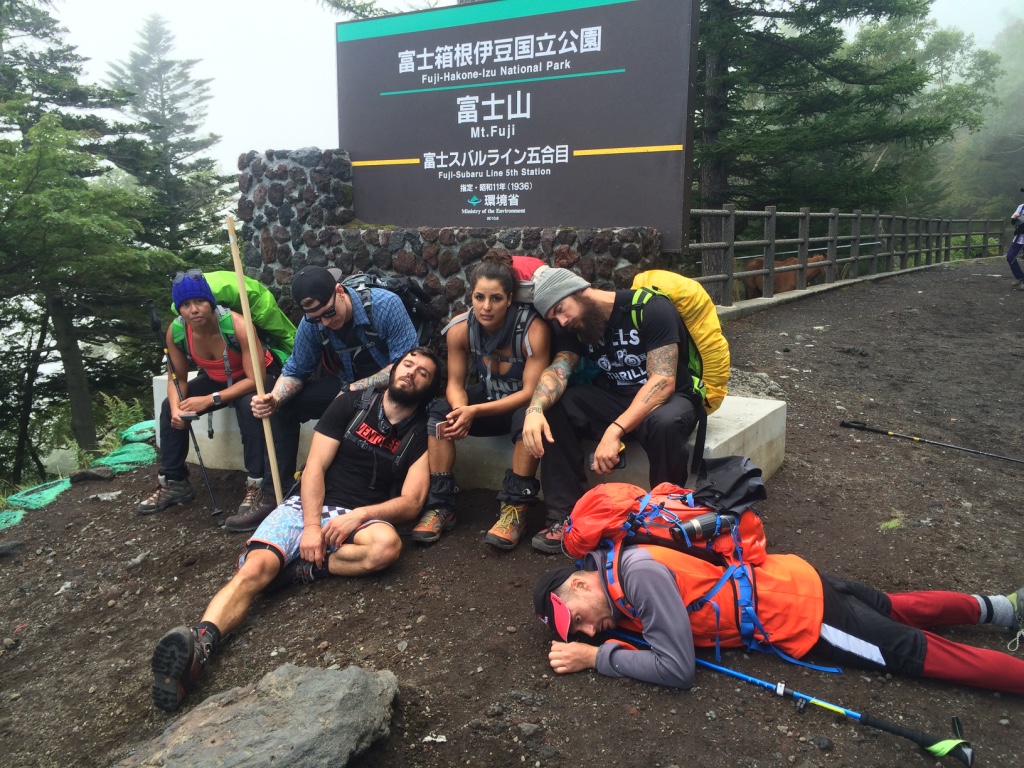 We were walking into the night as the sun sunk low behind the mountain releasing a silhouette over the land behind us. Reaching the final hut and our resting place for the night was such a relief. It meant we not only got to eat, but lay down and rest our exhausted legs. After dinner we got our sleeping arrangements sorted and what I thought was going to be a great sleep turned into a night of listening to men battle in a screaming snoring duel. Not even my headphones could drown out the sound. Throughout the night I went outside and stared up at the stars and looked over the moonlight land that surrounded the mountain to clear my head and to get some peace and quiet. I got some deep thinking done out there, as sleeping was no option. I finally headed back in and lay down in between Bryce and Jackie, only to be snuggled by both of them, which kept me extra warm.
Mt Fuji – Day 2 – 11/9/15
After being awake the whole night it was coming up to 3am and it was time to get ready and start the final accent to the summit. The room was full of people getting prepared and putting on their layers; the cold breeze was coming though the crack in the door which meant the wind chill was going to be exhilarating. As our team gathered together we decided to break into groups and meet at the top to share the spectacular view.
I joined the trio from Hang Strong and off we went with our headlamps burning into the night sky. After overtaking quite a few people, we all of a sudden hit a bottleneck and became part of a slow moving line towards the top. It was actually a pretty insane view as all you could see up and down the mountain was everyone's headlamps looking like extra bright glow worms. After a couple of hours, we finally made the summit of Mt Fuji and we secured a spot so the other AdventureFit members could join our excellent position for the sunrise.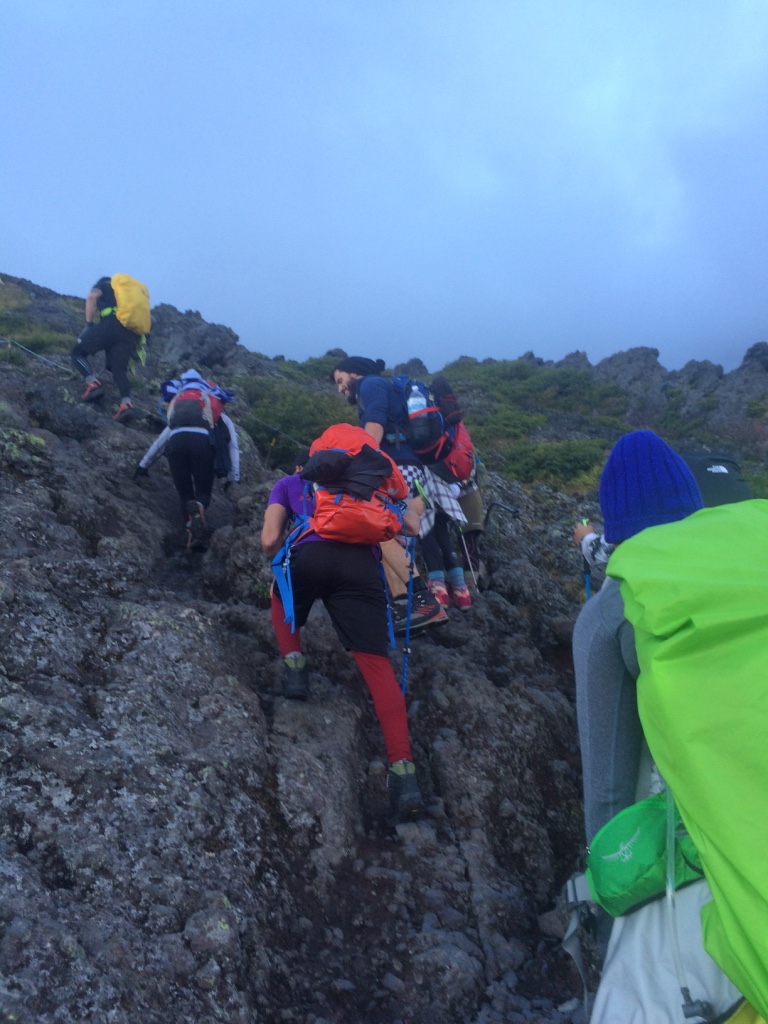 Being all-together we got to share the experience that none of us will ever forget. It was a mesmerizing and beautiful event to witness the sunrise through the clouds as it was glowing the most incredible colours into the sky above us. After a while of sitting there and taking it all in Kelly and myself were curious to see what the mouth of volcano looked like and to get a grasp of this strange place that naturally developed many years ago. We both stood there and felt very small compared to the surrounding walls. Before we left we both grabbed a couple of rocks to keep as a memory of our achievement.
On the descent a couple of the others and myself spoke about our lives and what we needed to change to better ourselves. I'm not sure if it was the sunrise or the journey we were about to complete, but it was like we all agreed on how beautiful and precious life is and how we wanted more from it. After a few hours walking down and trying not to fall over we arrived back at 5th station. We stood there and spoke about the last 24 hours whilst we were waiting for the bus to take us home. We all caught up on some sleep on that ride home and you could see in everyone's faces that they were exhausted but proud for conquering the last two days.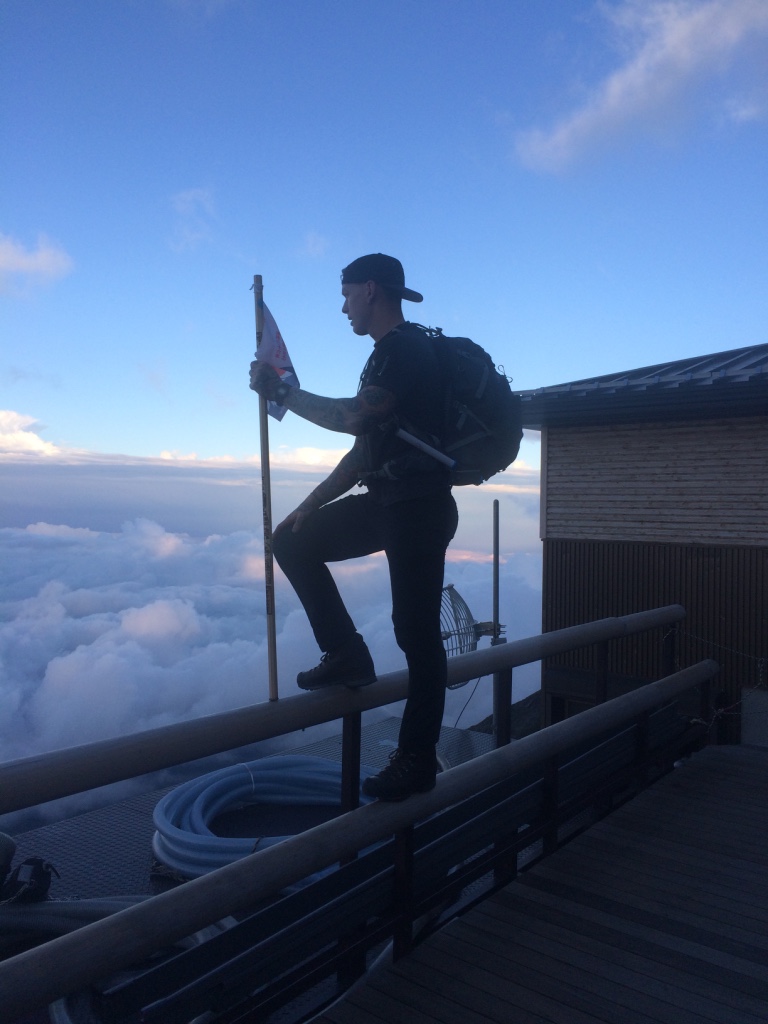 I had been waiting for this journey all year, and it was sadly coming to an end. I have to say that Doc, Dave and Jackie gave us the experience we all hope for, and honestly so much more. All of the members in our group were all such amazing people. I made close friendships that will allow me to travel the world to meet up with them once again. If you're ever thinking about going on an expedition with AdventureFit I say do it. It will change your life. Experience a trip you'll never forget and build friendships that will last forever.
I am ADVENTUREFIT…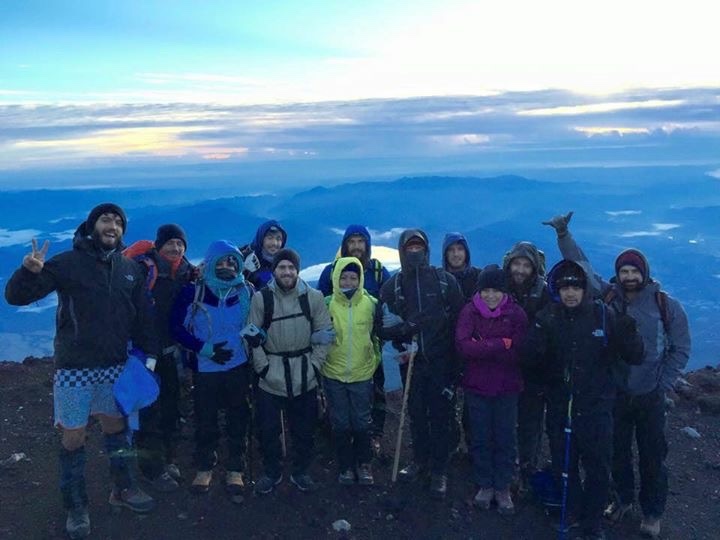 Chris Strange is the head of Customer Service at Again Faster Australia / NZ. Photos courtesy of the Author.